UA's Risk and Insurance Program Receives Industry Designation as Global Center of Insurance Excellence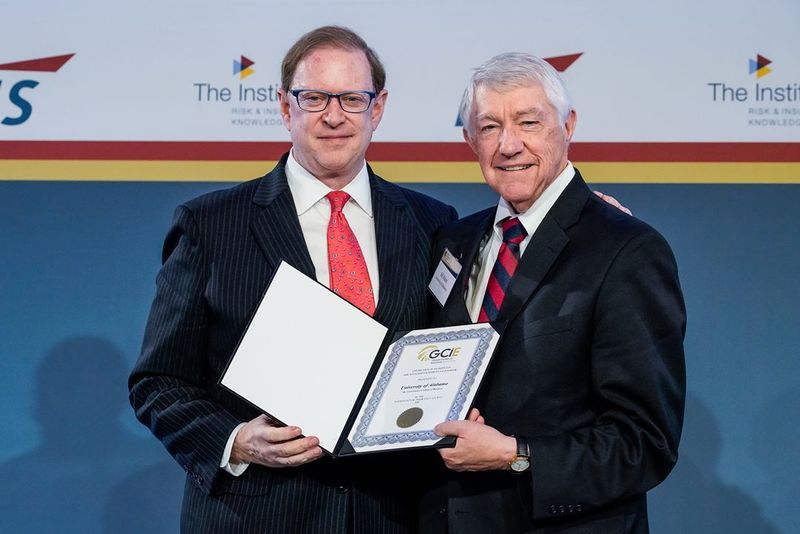 Written by Reginald Allison II
The University of Alabama has been awarded the Global Center of Insurance Excellence (GCIE) designation by the International Insurance Society (IIS) for its exceptional risk management and insurance program. UA's Insurance, Risk Management, and Actuarial Science (IRMAS) program is among just 29 programs worldwide to receive the honor.
A formal announcement was made to a global insurance audience of 500 senior executives, academics and policymakers at the IIS Global Insurance Forum, which took place in Berlin, Germany, on July 7-9, 2018.
The GCIE designation recognizes outstanding risk management and insurance programs that play an integral role in promoting insurance knowledge and research. Designee schools are selected based on several criteria including academic rigor, industry involvement, and student and faculty excellence.
"We are proud to be recognized by the International Insurance Society for our work in advancing insurance education and promoting strong connections with the industry," said Dr. William H. Rabel, FLMI, CLU, John & Mary Louise Loftis Bickley Endowed Teaching Chair of Insurance & Financial Services. "This recognition is the result of the collective efforts of our faculty, staff and students, as well as our advisory board members, donors, supporters and alumni."
The IRMAS program at the University of Alabama's Culverhouse College of Business is one of the oldest programs of its kind and has a proud history of educating future industry leaders. UA offered its first insurance course in 1921 – only five years after the first such organized courses were taught anywhere in the world. UA students and graduates have qualified for actuarial designation for more than a half-century and in 2007 a formal actuarial science program was established with the guidance of the Society of Actuaries and Casualty Actuarial Society. Today, students studying insurance, risk management, and actuarial science at UA have the opportunity to learn from innovative faculty, network with industry professionals, join an award-winning fraternity, and partake in various experiential learning opportunities.
The University of Alabama is also home to the Alabama Center for Insurance Information and Research. The independent, nonprofit state research center was established in 2013 by Gov. Robert Bentley to examine the challenges facing Alabama homeowners and produce credible information concerning the management of risks. ACIIR is currently working on a number of projects aimed at addressing this mission, including partnering with the Culverhouse LIFT (Learning Initiative and Financial Training) program to survey and educate the West Alabama community about insurance and financial literacy.
The full news release of 2018 GCIE designees can be found on the IIS website.