Boudoin, Mothersbaugh Named Bickley Innovation Award Recipients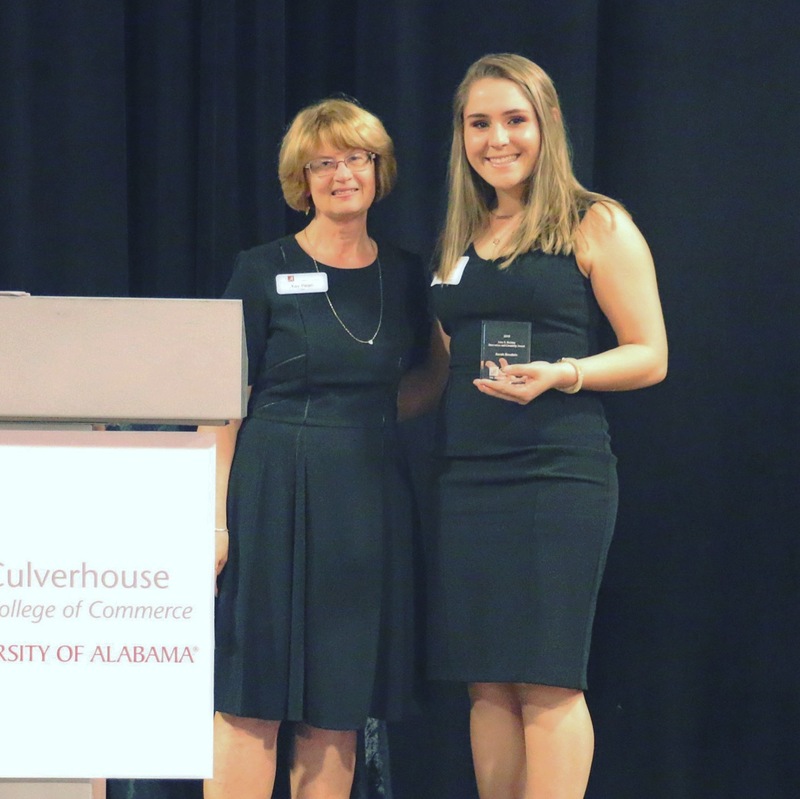 Written by Reginald Allison II
Dean Kay Palan awarded Sarah Boudoin and Dr. David Mothersbaugh the 2018 John S. Bickley Innovation and Creativity Award from Culverhouse College of Business during the annual Faculty & Staff Awards Ceremony on Friday, April 13 at the Dinah Washington Culture Arts Center in downtown Tuscaloosa.
The John S. Bickley Innovation and Creativity Award, instituted in 2006 and named in honor of emeritus professor of insurance, Dr. John S. Bickley, honors individuals who have demonstrated innovation and creativity to further excellence within Culverhouse.
Sarah Boudoin, a sophomore from Hoover, AL, and Dr. David Mothersbaugh, Associate Dean of Undergraduate Programs, were recognized for their ingenuity in creating Sophomore LAUNCH, a weeklong "boot camp" designed to accelerate the careers of Culverhouse sophomores, which was held January 22-26. Throughout the week of Sophomore LAUNCH, students were able to attend sessions that highlighted various business majors and minors, receive internship and career advice, and get course advising for the summer and fall 2018 semesters.
Sarah brought the idea to the dean's office during the fall semester and worked diligently with Dr. Mothersbaugh to bring the vision to life. "I am beyond humbled to have received the John S. Bickley Innovation and Creativity Award," Boudoin said. "Bringing the Sophomore LAUNCH week to life was an incredible journey and I cannot wait to continue pursuing my passion for undergraduate programs."