Culverhouse MIS Students Win Across the SEC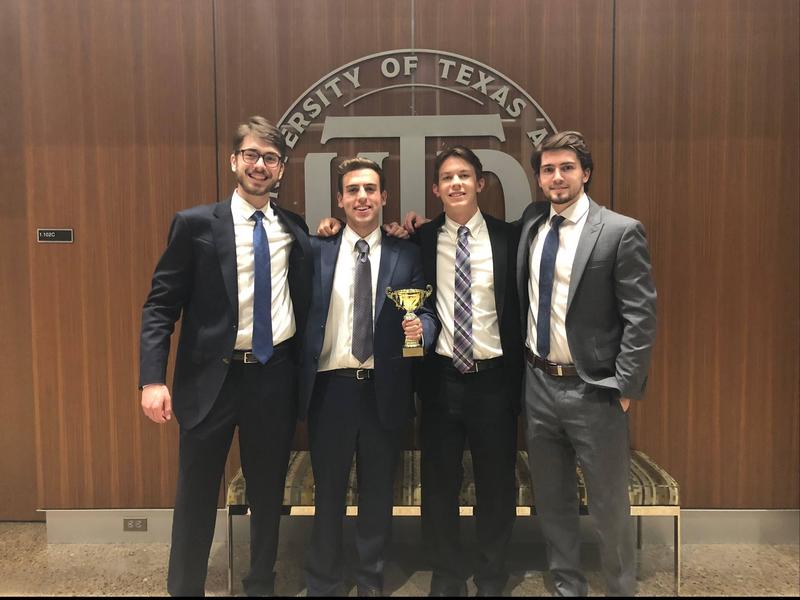 TUSCALOOSA, Ala. — Thirteen Culverhouse College of Business students represented The University of Alabama chapter of the Association for Information Systems at the annual AIS Student Chapter Leadership Conference in Dallas April 12-14.
At the conference, students heard from industry professionals like Russ Finney and Charles Haseman on issues and advancements within the IT industry, broke out in leadership and workshop sessions, and participated in various student chapter competitions.
A team of four MIS juniors, advised by Dr. Matthew Hudnall, received second place and a $1,000 cash prize in the University of Arkansas Blockchain Hackathon Challenge.
The students included:
•    Drew Thomas majoring in Management Information Sciences from Johns Creek, Georgia
•    Alex Coury majoring in Management Information Sciences from Nashville, Tennessee
•    Matt Cutler majoring in Management Information Sciences from Gulf Breeze, Florida
•    Jesse Kaffenberger majoring in Management Information Sciences from Monroe, New York
"The conference allowed us to listen to keynote speakers on different topics pertaining to technology," said Matt Cutler. "There were also student competitions and workshops put on by the conference. This was a great networking opportunity to meet similar-minded students while learning about the future of technology."
At the awards banquet, the UA chapter of AIS won the Chapter of the Year award for the second year in a row. The Chapter of the Year award is the highest award given to the student chapter that has demonstrated an exceptional, well-rounded, and organized program.
In addition to the awards received in Dallas, a team of students won first place in the SEC Student Cyber Challenge April 9 held at Auburn University. The competition was part of the 2018 SEC Academic Conference and titled "Cyber Security: A Shared Responsibility."
The competition highlighted a real-world cyber security problem presented by Equifax, and teams had nearly 48 hours to develop a solution in a "hackathon" style challenge. Each SEC university was eligible to enter a team, which could include graduate and undergraduate students and required faculty oversight.
The team included:
•    Austin Hose, a junior in New College studying cyber security from Meridianville, Alabama
•    Kevin Poorman, a graduate student in criminology and criminal justice from Huntsville, Alabama
•    Austin Lucas, a senior studying management information systems from Marietta, Georgia
•    James Woods, a senior in management information systems from Cumming, Georgia.
•    Dr. Matthew Hudnall, assistant professor of Management Information Systems and advisor