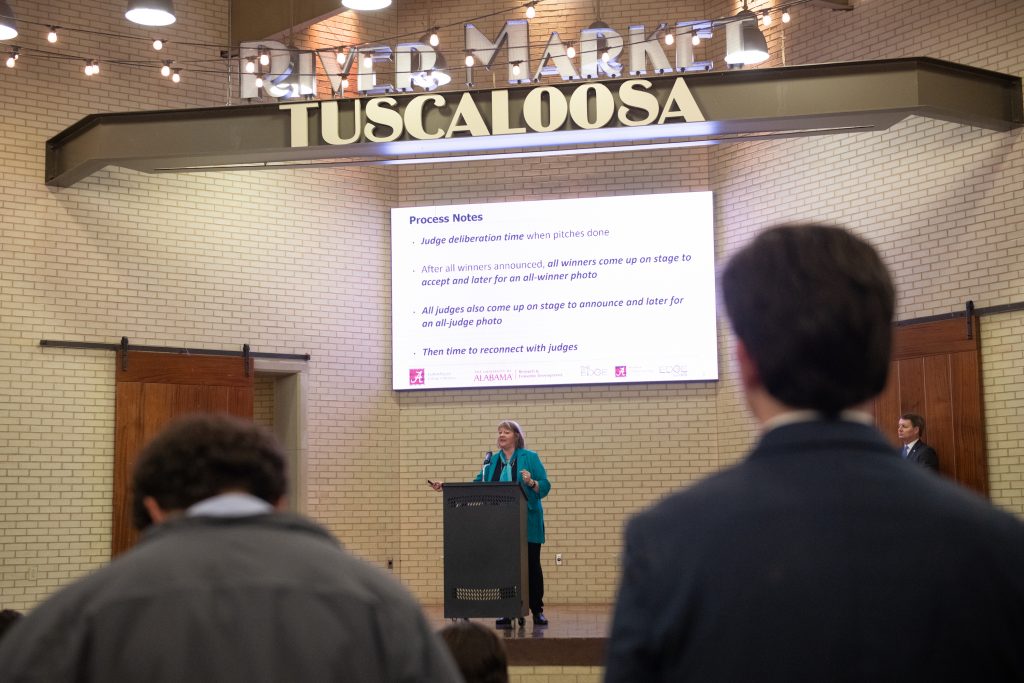 This editorial originally appeared on AlabamaINNO, an offering of the Birmingham Business Journal.
By Dr. Theresa M. Welbourne – Alabama Entrepreneurship Institute
Six years ago, the team at the Alabama Entrepreneurship Institute started the first River Pitch competition in Tuscaloosa, Alabama. The event brings together students from not only The University of Alabama, but also from other colleges in the area, community members, faculty, and staff to pitch their business ideas in only three minutes.
During Global Entrepreneurship Week, on Nov. 15, we filled up the Tuscaloosa River Market, and from 5-9 p.m., we heard more than 60 different pitches. The contestants competed for 10 different $1,000 prizes, and there is one prize per "booth." This year, we not only had more competitors, but also a broader range of ideas. As a result, we had different competitor groups, the new idea groups, as well as the advanced ideas groups (pre-revenue, but further along).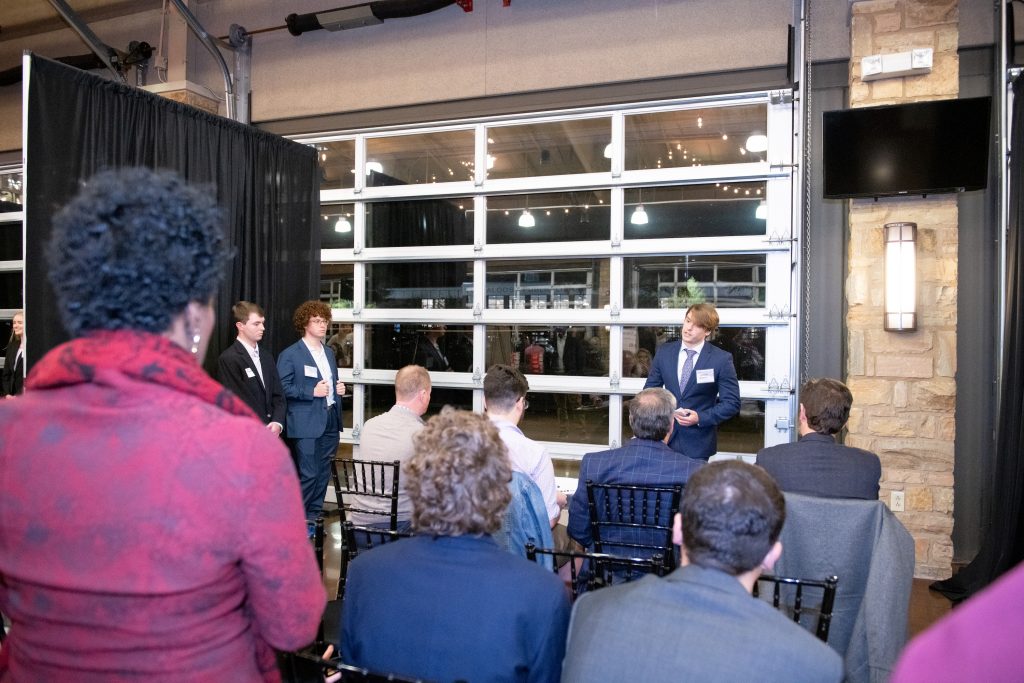 The quality of the ideas keeps getting better. Many of the students who competed were part of classes where they learned the art and science of the pitch. Not only do we credit the faculty for all their help with pitch development, but also the students who assisted each other. Getting feedback and giving feedback to others helps refine pitches. Leverett Powell, a serial entrepreneur at The EDGE, set up coaching sessions with small teams who were pitching. He found that working with them created a positive experience for the contestants.
In addition to the contestants, 30 judges were part of the event. The competitors not only walked away with a great learning experience, but also met people to network their idea. I've already had several students come into my office (the day after the event) and tell me they were invited to meet with a judge, some the morning after.
Our goal after River Pitch is to continue working with entrepreneurs and continue to connect them to each other and to coaches who can move their ideas forward. We want them to keep improving and get ready for the business plan competitions we host in the spring. There are three different events:
The Tuscaloosa Innovates Business Plan Competition in February.
The Edward K. Aldag, Jr. Student Business Plan Competition in Apri.
UA faculty and staff (or all employees) Innovation Pitch Competition in May.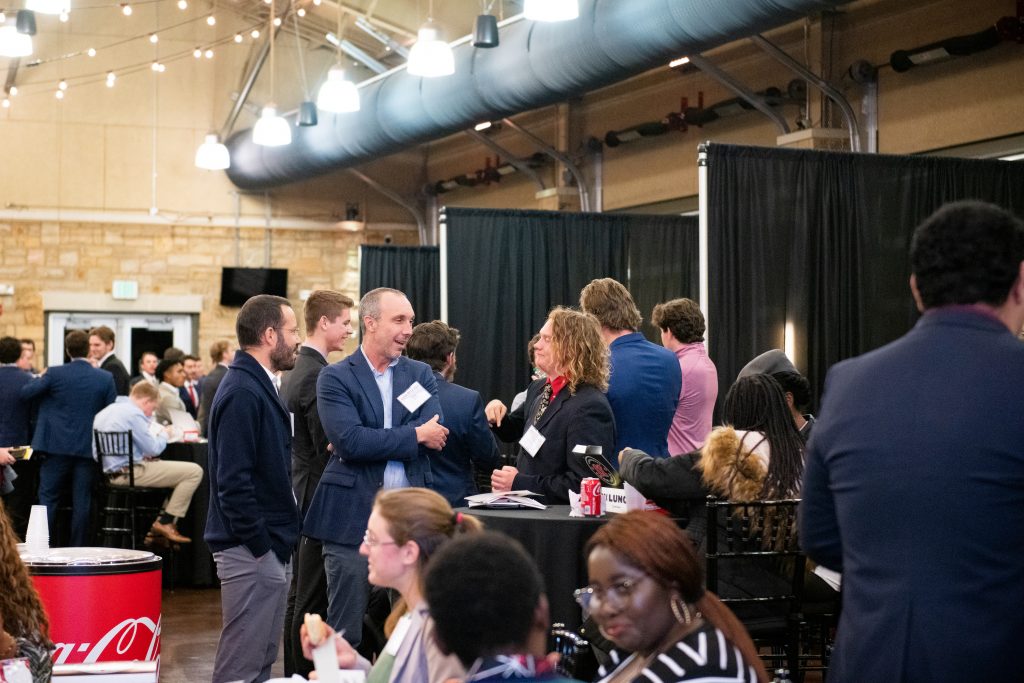 River Pitch is the start of our entrepreneurship competition season. Keep an eye out for the teams that move forward. Our 10 River Pitch winners were:
Canary — Olivia Hinn, Lauryn Smith, Peyton Friedman and Sydney Helgeson. The Canary app is the most efficient combination of safety technology to keep you and your community safe when traveling or in your own neighborhood.
Druid City Makerspace — Tiffany Amirkhanian. We are creating a gym for hobbies, a makerspace. For a low monthly fee, members will have unlimited access to our tools and consumables will be available for purchase. We currently can offer 3D printing, laser engraving, sewing, stained glass, small-scale woodworking, a heat press and button presses. We plan to adapt with the community desires and would love to have an art therapist on staff in the future.
Renshuu — Nikhil Jamched. Renshuu is a rental rehearsal space business for musicians and bands in the Western Alabama area looking for a safe, reliable and affordable place to practice.
My Speed Match — Brooke Spencer. Speed Match is a speed-dating company designed for college students in Tuscaloosa.
Tuska Brew Solutions — Brian Henderson. Tuska Brew Solutions has created a carbon capture solution for breweries. They are dependent on purchasing large amounts of CO2 to carbonate their beer. However, they produce more than they use. We are capturing and recycling their CO2, allowing them to become totally self-sufficient.
Quench CBD — Lindsey Donohue, Alex Osinska, Madison Lowe, Jack Cote.Quench CBD is an electrolyte drink mix that also contains CBD. The combination of CBD and electrolytes makes it an ideal solution to help relieve both physical hangover symptoms and feelings of hangover anxiety.
JetStream Social — Jet Thevenot. JetStream Social is a B2B SaaS company that helps businesses and influencers improve their audience interactions on Twitter by streamlining processes to help them manage and optimize their direct messaging communications and content marketing.
The Pelt Backpack Rain Guard — Trina Locklear. The Pelt Company makes proprietary rubber products. Our current line of products keeps you rain-ready and is inspired by life in the South. Our products include the Pelt Backpack Rain Guard and an all-season outdoor dog bed. With the Pelt Backpack Rain Guard, you only need to install it once, unlike rain covers, and it has a service life of 10 years.
Houndstooth Marketing — Madison Sears. Houndstooth Marketing is a full-service marketing agency that offers digital and print marketing services to the West Alabama area.
Fairway Golf — Owen Maccarrick. There has been a recent surge of venues like TopGolf, which brings a modern dining and game aspect to a driving range, as well as many indoor golf simulators. These simulators have yet to make their way to Tuscaloosa despite a strong golf presence across campus. I believe that it's only a matter of time and that is the goal of Fairway Golf: to bring the driving range experience indoors in a way that appeals to both Tuscaloosa residents and University of Alabama students.
I've been talking about the winners, but I also want to do a big shout out to the non-winners because they are making incredibly positive contributions to our local community and economy. Several who did not take home a prize are making great progress. Many are already working with customers and starting to scale their businesses.
Several of our winners from previous years participated at the event as judges. I started out talking about the importance of competitors helping each other, and I will end the article by talking about winners coming back to help those at earlier stages. The cooperation and contributions toward something bigger than ourselves – in this case the entrepreneurial ecosystem — is what drives the building of a viable growth community, complete with lots of innovation at all stages of development.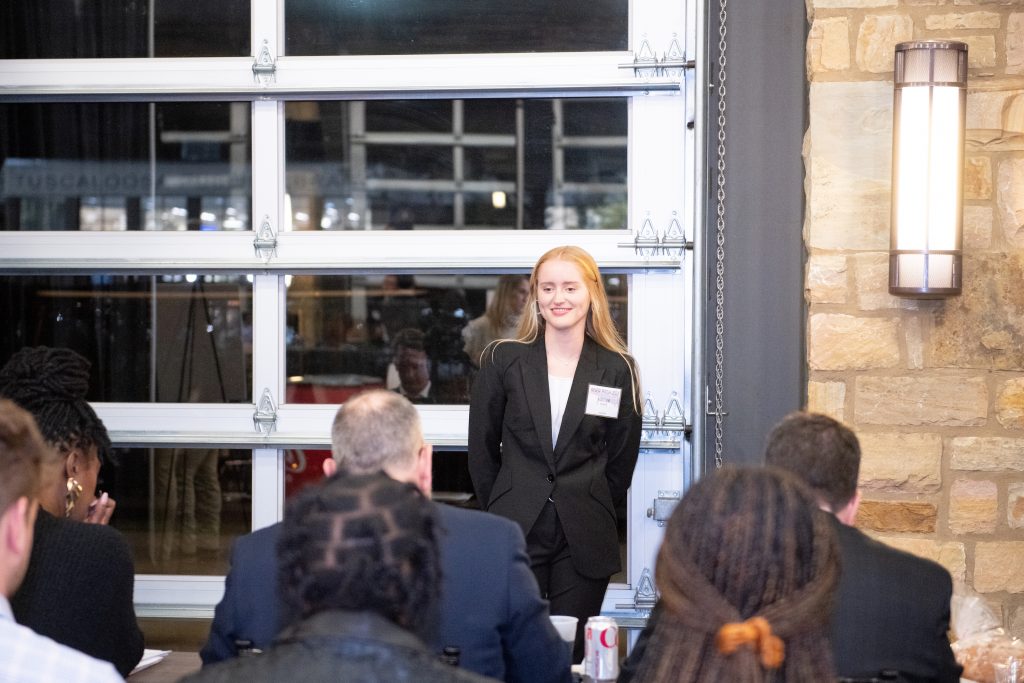 Anyone interested in learning more about the Tuscaloosa entrepreneurship community can contact Theresa M. Welbourne at aei@cba.ua.edu.