Micah Presley, a recent graduate of The University of Alabama, has received a John S. McCain Strategic Defense Fellowship through the U.S. Department of Defense.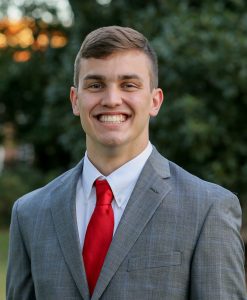 Presley, a native of Florence and the first UA student or graduate to receive this fellowship, graduated in May with undergraduate degrees in economics and political science, and a master's degree in economics through the UA Graduate School's Accelerated Master's Program. He was also part of the UA Honors College.
The John S. McCain Strategic Defense Fellows Program is a one-year civilian fellowship program designed to provide leadership development for the commencement of a career track toward senior leadership in the Department of Defense. Presley is part of the program's third cohort.
Presley is working as a management analyst for the Army General Counsel. The Army General Counsel serves as the chief lawyer of the Army and is responsible for determining the Army's position on any legal question. While Presley assists broadly within the Army's Office of General Counsel, he serves most closely with Operations and Personnel Practice Group that handles legal advice on Army operations and personnel matters.
"When I applied to this fellowship, I saw it as a hurdle no shorter than Denny Chimes," said Presley. "As a fresh 22-year-old graduate student, there didn't seem to be a spot in the Pentagon for an economics student with a keen but barely proven interest in national security. Much more than a blurry vision couldn't have been seen by the committee of people that selected me for the John S. McCain Strategic Defense Fellowship, yet they still chose to give me a chance to serve my country.
"This opportunity to serve the Department of the Army among some of the nation's leading defense experts will allow me to make a contribution, no matter how small it is, to the lives of our Army's soldiers. Alongside the other opportunities the fellowship offers such as the Department of Defense trainings and a senior executive service mentor, I will be able to begin my career with the best possible foundation."
This Department of Defense experience, along with its challenging assignments, will help Presley and other fellows become problem solvers, strategic thinkers and future leaders.
"I hope to accomplish the same thing that I tried to do at The University of Alabama, which is leave the place better than I found it," said Presley. "While intangible, I think that it culminates well with what I hope to do, which includes solving issues that affect our security, finding new ways to better the lives of soldiers, and bridging the fields of economics, public policy, and national security.
"The next year will allow me to serve something greater than my own career or interests, and I am excited to do just that."
Presley credits his father, Brigadier General Roger A. Presley Jr. of the Alabama National Guard, for being his inspiration to follow a career path with the military.
The UA Office of External Scholarships and Fellowships assists students in the pursuit of national and international awards. Students interested in applying for awards that require an institutional endorsement can learn more on the External Scholarships and Fellowships website.