Update 11.14.22: Henderson took second place at the Servin' the South Business Model Competition on November 10 as well.
---
Brian Henderson, a Manderson MBA student and CEO of Tuska Brew Solutions, took 2nd place at the SEC Student Pitch Competition in Baton Rouge, hosted by LSU on October 2-3. "This is the first time The University of Alabama has ever placed in the top three in the SEC pitch competition," Henderson said, "and I am proud to have been able to represent the University in this incredible achievement by placing second."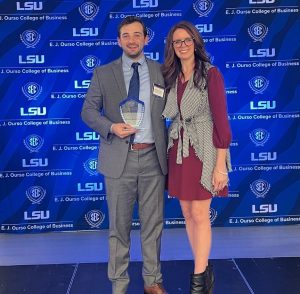 He was accompanied by Culverhouse Clinical Instructor Jennifer Dempsey, who served as the faculty advisor of the trip. Dempsey said, "The LSU team was an amazing host and we are always grateful for the SEC sponsorship of events such as these." Earlier this year, Henderson was also a finalist in the 2022 Alabama Launchpad Cycle 2 and a second place winner in the 2022 Edward K. Aldag Jr. Business Plan Competition that is hosted by The EDGE.
Henderson's company is built on a patent-pending solution that harvests CO2 from the beer brewing process and recycles it, allowing breweries to "become self-sufficient and save money". In addition to supporting the profitability of local small businesses, the process also benefits the environment by preventing excess CO2 from entering the atmosphere. The idea came from a project Henderson completed as a student in a UA product innovation course. " Jennifer Dempsey said, "I am so proud of his hard work and this reward for all his accomplishments as a student and a professional. He represented his company, Culverhouse College of Business, and The University of Alabama well."
Tuska Brew is currently working with breweries in both Tuscaloosa and Birmingham.