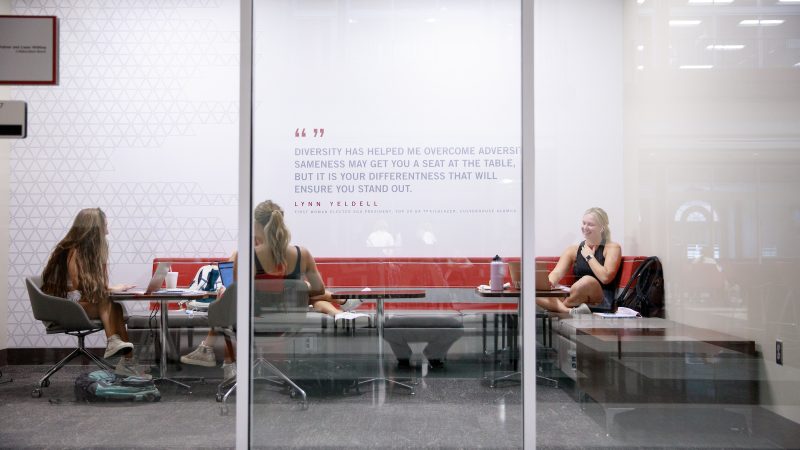 Culverhouse Student Update for Sept. 13
By Joe Clark
Got a news lead? Send it to jtclark9@crimson.ua.edu.
This week's big news is that the Culverhouse College of Business is now ranked 26th among all public business programs in the country and 39th overall. Last year the College was 30th among public programs and 49th overall.
---
You can expect to see some more ads from Burger King. On Friday, September 9th, the company announced a $400M plan through 2024 to rejuvenate its success domestically; the company reported stagnant growth in sales growth for the second fiscal quarter this year, and has trailed behind competitors Wendy's and McDonald's in the United States for much of the past year. Although it was no cause for alarm, it became obvious to company executives quickly that something needed to change. In response, the company decided to take the fight personally and invest heavily in advertising and renovations in order to boost success.
The venture has received support from many of the company's franchises throughout the nation, as they were told that they'd need to help chip in to help the crowdfunding for the project. The specific steps to be taken for the project have not been announced yet, nor has it been confirmed which restaurants, in particular, would be helped by this – all we know is that the financial world reacted positively to this, with shares in Burger King's owner, Restaurant Brand's International, seeing gains on the day and a rise in share prices week over week. The company expects results to truly show by 2025 earnings reports, with the project beginning in 2023.
About half of the $400M is going directly into the remodel of 800 restaurants, with another $50M going into technological upgrades for other restaurants. With over 7,000 locations in the United States, it's clear how wide-reaching this initiative could be; according to CNBC, remodeled restaurants typically see a 12% increase in revenue compared to non-remodeled locations, and with the reach of this initiative, Burger King could see a major jump in revenue. While we're still not exactly sure what the results of this will be, it's exciting to see such a major chain putting this level of investment in their restaurants. Personally, though, I'm more of a McDonald's guy myself.
Alumni Highlight: Sarah Conrad
Following her graduation from The University of Alabama, Sarah Conrad (Class of 2021) began working for Goldman Sachs as an equity research analyst, a position she sought for much of her time at school. She's a sell-side equity research analyst, covering healthcare services companies at Goldman Sachs and is based in New York. At Goldman, her team publishes financial models and research reports on their publicly traded covered companies, provides investor education, and facilitates the flow of information between C-suite executives and buy-side investors.
When asked what her favorite part of the career is, she said how it provides lots of responsibility and exposure to clients early on in the job. Within a year, one can be sourcing ideas, writing notes, updating financial models, and taking client calls. She emphasized that it gives an employee exposure to the full scope of a more senior role very early on. Such a level of responsibility is typically uncommon for someone who graduated recently.
When asked what clubs she felt best prepared her for her career, she pointed out a few of her experiences, such as how CIMG taught her many technical skills and how to think about investing in equities – it provided her the resources to be successful in Wall Street recruiting. She also learned a lot from the value investing concentration with John Heins, which went more in-depth into the skills needed for an equity research job beyond the core Finance program classes. She referred to it as the extra step she needed.
Looking back on her time at the University, Sarah has many positive memories; she was involved in various clubs, Greek life, and all sorts of opportunities that took her further. When asked what advice she would give students looking to have post-graduate success, Sarah emphasized the importance of getting involved in academic clubs within your areas of interest, whether that's the CIMG, MCA, IBA, etc. She said even if that's not your style, attend the Career Center company events – it helps to introduce you to potential employers and career opportunities. Another important detail: If you are looking for a job on Wall Street, start recruiting by your sophomore year for your junior summer internship, and talk to the Alumni in the role or company before applying. Alabama has an extensive alumni base willing to help with placement. Be proactive.
Sarah's post-graduate success started with her time at the University, just as many of our stories do – it's what you do in your time at school that determines what will be written.
Student Org Highlight: Delta Sigma Pi
With 157 members from across the nation, Delta Sigma Pi is one of the largest academic clubs on campus. The group hosts philanthropy and social events, which offer many opportunities to connect with fellow students and to make a difference in the local community.
The group consists of students affiliated with the business school, across 13 different majors with 35 minors, and members are currently involved with 5 different honors programs. They host sponsors from many different major companies, such as Amazon, the Federal Reserve, and Coca-Cola, as well as many others. With this far-reaching influence, one of the biggest advantages of joining the group is the network of individuals you'll be in contact with, whether they be current or former students.
Reach out to a member today to find out more information about the group, as the opportunities offered could make a big difference in the future!