Trash Cams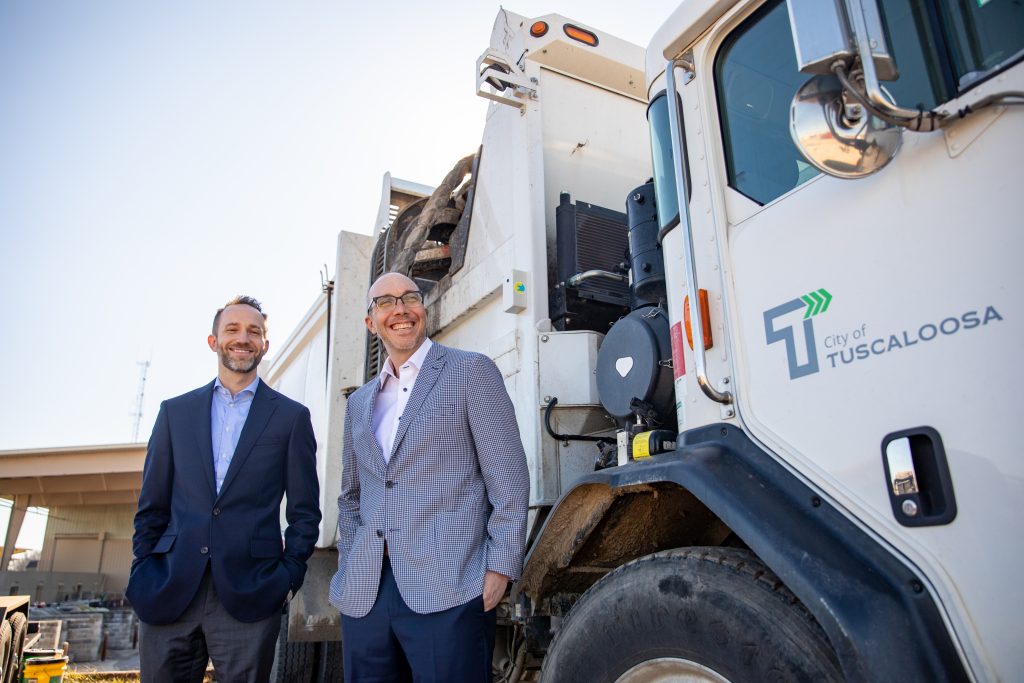 ---
This story is an updated version of this story published earlier in 2021.
Tuscaloosa, like most municipalities, frequently receives calls about overgrown grass, abandoned vehicles, litter, illegal parking, and appliances or furniture left outside of homes.
Early in 2021, The University of Alabama and the City of Tuscaloosa collaborated to create an Artificial Intelligence (AI)-driven system that can automatically detect blighted areas in a community, helping to prevent issues from escalating into costly repairs for property owners. And its founders have established a company named City Detect to market it.
The inventors of the technology are Dr. Erik Johnson, assistant professor of economics in the Culverhouse College of Business, and Brendan Moore, executive director of urban development for the City of Tuscaloosa.
City Detect uses images of property captured by cameras mounted on city vehicles, particularly garbage collection trucks, which feed into a computer model trained to spot blighted properties and nuisances. The model provides an assessment and information on potential remedies.
"Efforts to address blight are not new or distinct to Tuscaloosa," Moore explained, "but it is a constant problem that is difficult to appropriately staff and address. This technology allows us to create early, equitable interventions that can enhance communities, prevent neighborhood decline, and connect underserved populations to social services to generate long-lasting change."
By placing the cameras on municipal garbage trucks, an entire city can be scanned each week, automating the initial inspections performed now by city staff. This contactless method can minimize potential confrontations between residents and city employees, Moore said.
Johnson developed and trained the artificial intelligence that powers the blight analysis using data and images of past blighted properties and code violations.
"This system helps to prevent neighborhood decline in an affordable way using a unique method to collect and analyze data on blighted properties," Johnson said.
"The ability of the model to determine exactly what part of the property is driving the blight score can help inform property owners and lead to low-cost interventions."
While the City Detect technology is still in its pilot phase, due to further testing and improvements in its AI underpinnings, its founders have now deployed it in Springfield, Illinois.
Phase one of the Springfield deployment was recently concluded, identifying 282 blighted properties in need of remediation and 20,000 other code violations across other land parcels. City Detect plans to add more pilot cities before it moves into a growth phase.
The company itself has also grown commensurate with improvements to its capabilities: it recently hired co-CEO Gavin Baum-Blake, a graduate of The University of Alabama School of Law and a tech entrepreneur, to help scale the company and as well as a complete technical team to build up its back-end infrastructure. Comer Jennings has also been brought onboard as VP of client acquisitions.
For Johnson, City Detect is a collaboration and a way of driving economic development within the region,t "In addition to our partners with the City of Tuscaloosa, my colleagues in UA's Office of Innovation and Commercialization, the Alabama Entrepreneurship Institute, and at Culverhouse really helped us find a market for our product, identify funding, and provide sound advice. It's a team effort, for sure."
"Furthermore, it's exciting to grow a tech company here in Tuscaloosa and we have an incredible source for talent at UA. I would be hard-pressed to name another place that could offer something similar."