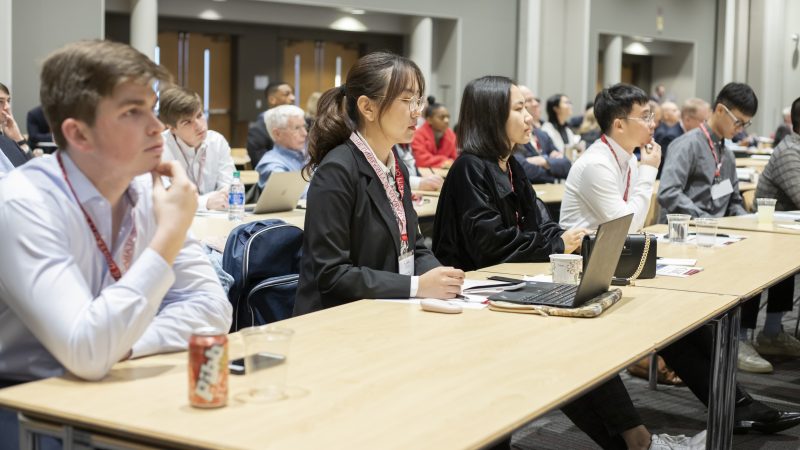 A Day for Finance and Investing: CSIC Returns March 5
CONTACT:
John Heins
Director, Fitzpatrick Center for Value Investing
jheins@culverhouse.ua.edu
(205) 348-0214
TUSCALOOSA, Ala. –– The Capstone Student Investment Conference, or CSIC, is an annual event hosted by the Culverhouse College of Business, during which students and industry professionals with a common passion for investing and finance come together for a day of learning, networking, and sharing expertise. CSIC will take place on Saturday, March 5, 2022, from 8:30 a.m.-4:30 p.m. in Hewson Hall on the campus of The University of Alabama.
The distinguished panel of speakers includes representatives from prominent firms in the financial services industry who have experienced great success in several finance and investing fields and look forward to sharing their expertise and insight with attendees. Those who attend the event have the opportunity to meet with these individuals, who view the conference as an ideal way to contact motivated and engaged students interested in finance-related careers.
The 2022 CSIC speakers include:
Richard Cook, Partner and Portfolio Manager, Cook & Bynum Capital Management
Dan Davidowitz, Lead Portfolio Manager, Focus Growth Strategy, Polen Capital
James Davolos, Portfolio Manager, Horizon Kinetics
C.T. Fitzpatrick, Chief Executive Officer, Chief Investment Officer, Vulcan Value Partners
Jenny Van Leeuwen Harrington, Chief Executive Officer and Portfolio Manager, Gilman Hill Asset Management
Christopher Kiper, Chief Investment Officer, Legion Partners
Stan Majcher, Portfolio Manager, Hotchkis & Wiley
Derek PIlecki, Founder and Portfolio Manager, Gator Capital Management
David Samra, Lead Portfolio Manager, International Value Team, Artisan Partners
Adam Schwartz, Senior Managing Director, Portfolio Manager, First Manhattan Co.
The individual student registration fee to attend the full-day conference is just $35, which covers all handout materials, continental breakfast, refreshment breaks and lunch. The professional rate for admission is $99, a fraction of the fee charged for conferences of comparable quality. Discounted rates are available for groups of five or more.
For more information and to register, please visit the event website at csic.culverhouse.ua.edu.