Knight of Honor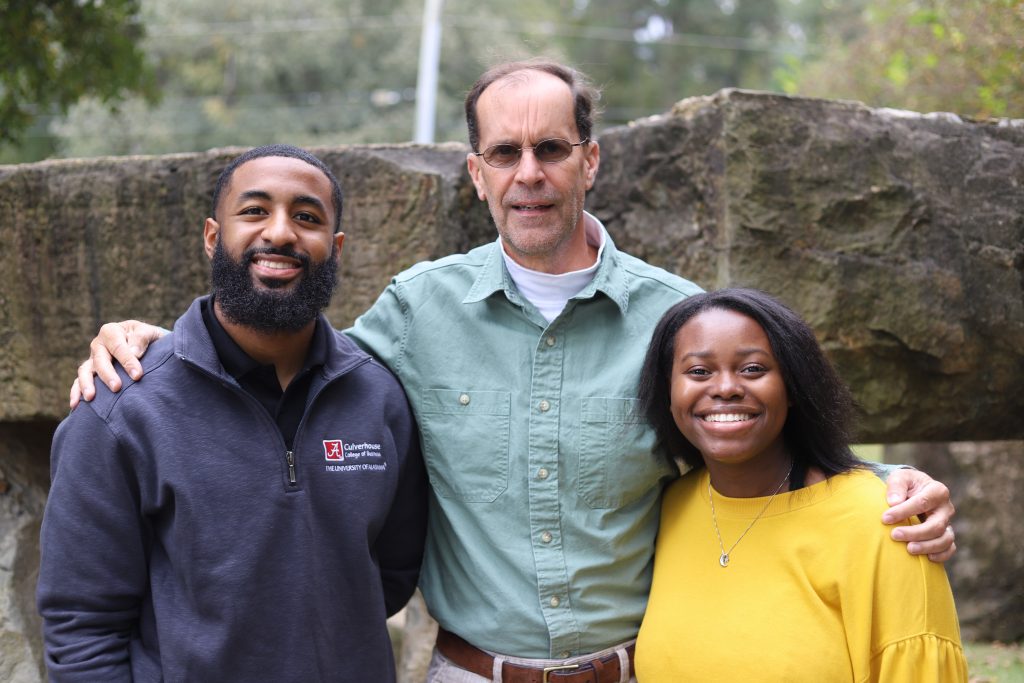 Two students are the first beneficiaries of the Knight Family Annual Scholarship at Culverhouse, made possible by a gift from a dear friend of the College, Peter A. Knight and his family.
The scholarship, oriented toward a junior or senior in excellent academic standing at Culverhouse, supports those who have faced hardships or would not otherwise be able to attend The University of Alabama owing to financial need.
Peter Knight's roots are from rural Arkansas and on one side, the Bryant family. Peter's Great Grandmother was Jewel Bryant, Coach Paul Bryant's first cousin. They grew up near each other just outside of Fordyce, Arkansas: Jewel in Smith Chapel and Paul in Moro Bottom. "My family grew up dirt poor as my parents and grandparents would always tell me."
Peter's parents were the first generation of their families to attend college, both at The University of Arkansas.
Given his lineage, he grew up both a Razorback fan and a Crimson Tide fan. That continued throughout his life even though he attended Syracuse University where he majored in finance and economics. After a career in finance and real estate, "I knew it was important to give back to The University of Alabama."
After seven years of contributing to his football scholarship, he knew he wanted to do more to empower young people in the Culverhouse College of Business.
"My life has been a journey filled with experiences that have taught me how lucky I have been and that because of it, I have an obligation and responsibility to give back in any way I can."
"It would break my heart to see worthy young men and women not able to pursue their dreams starting at the Culverhouse College of Business due to hardship and financial need. After meeting with Associate Dean James King and Dean Palan, I knew the annual scholarships were what I wanted to do now and for many years to come."
Peter's scholarship was established in 2021. "In the fall of 2021, I was able to meet both of my recipients."
"Their hard work, dedication, and passion for success in all its forms inspires me every day."
One of the inaugural Knight Scholarship students, Zachary Collins, a junior from Montgomery, Alabama majoring in accounting and finance, said "I deeply appreciate the generous scholarship award from the Knight Family."
"This act of kindness is humbling, encouraging, and beneficial to my educational pursuit at The University of Alabama. Not only does the Knight family's spirit of giving drive me to pursue excellence in my academic career. It also motivates me to continue to contribute to the University and the greater community through service and mentorship."