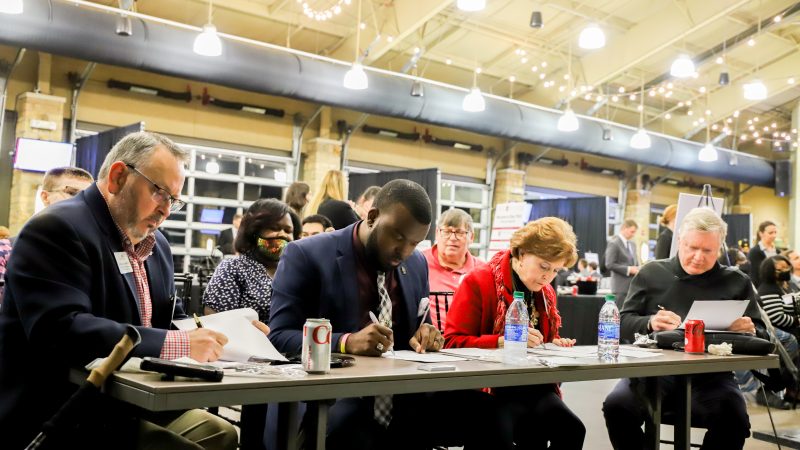 AEI celebrates 2021 Global Entrepreneurship Week
TUSCALOOSA, Ala.– Last week, the Alabama Entrepreneurship Institute hosted several events to celebrate Global Entrepreneurship Week. GEW occurs each year to encourage innovation and collaboration worldwide. After pushing all events to a virtual platform last year, AEI looked forward to hosting five in-person events to commemorate the week.
AEI hosted the Tuscaloosa City Schools Innovation Challenge, where representatives from City Schools presented their innovative and effective solutions to provide transportation for students attending various summer programs; a local entrepreneurs panel, which highlighted the growing entrepreneurial atmosphere of Tuscaloosa; a demo day, allowing representatives from local startups to network with each other and attend workshops; and finally, the annual River Pitch Business Idea Competition.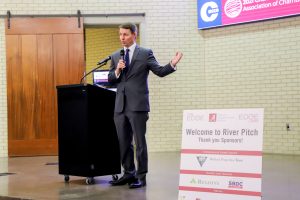 The River Pitch Competition occurs each year during GEW at the Tuscaloosa River Market. The competition showcases local entrepreneurs and is open to UA students, faculty, and staff, as well as members from the West Alabama community. There is no entry fee to register, and the 10 winning teams each receive $1,000 to support their innovative endeavors.
This year, 52 teams entered the competition. Each team selected one representative to deliver a three-minute pitch to a panel of judges. The judges then had five minutes to ask any clarifying questions to the presenter. Once each of the pitches had concluded, the judges deliberated and selected one team to win the funding.
Dr. Theresa Welbourne, executive director of AEI, kicked off the event by welcoming all attendees and addressing how AEI fosters entrepreneurship throughout West Alabama by holding several competitions and networking events throughout the year. She spoke on one of the largest barriers to progressing any startup—funding—and how AEI invests in community members to get their ideas off the ground.
"All the people in this room are working together to try and help you get your idea moving and get your business started, and also to help finance it," said Welbourne.
President and CEO of the West Alabama Chamber of Commerce Jim Page then took the stage. He spoke about how the River Pitch has grown over the past several years and the Chamber's goals in supporting AEI, the EDGE, and other initiatives that spark innovation in the community.
"Our overarching goal…is to try to grow the ecosystem in this community, so that entrepreneurs feel like they can be supported, nurtured, and thrive," said Page. "Just because great ideas start here doesn't mean they can't live here."
The teams split into their respective booths and pitched to the judges. Once all the teams were through, the participants were able to network with each other as the judges deliberated and made their final decisions.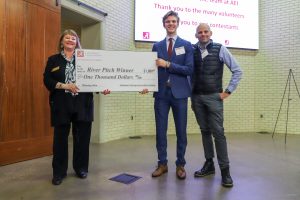 Joey Westermeyer, one of this year's winners, expressed how this event helps young entrepreneurs gain confidence in pursuing their ideas. Westermeyer also competed in the 2021 Edward K. Aldag Jr. Business Plan Competition last spring, where he and his team won $4,000 toward their idea.
"Something like this completely changes your perspective on the viability of your business," said Westermeyer. "It can really inspire you to get started."
After the winners were announced, participants were encouraged to revisit their booths to get feedback from the judges and stay connect with each other as they continue to develop their business plans.
The 2021 River Pitch Competition winners were:
Community Winners
Erik Johnson – City Detect
Sadetrica Dennis – Ameal, LLC
Gavin Baum-Blake – Don'tHaggle
Student Winners
Kaitlyn May – STEM Studio
Amber Ward – BeautyGo
Sarah Cottrell – Happy Plate
Payton Olivia Wortsmith – FloatMate
Josh Brouillette – Tri Jox
Joey Westermeyer – FlashNote
Lorenza James III – 8fifteen LLC
For more information on the Global Entrepreneurship Week, the River Pitch Competition, or other AEI competitions and events, visit entrepreneurship.ua.edu or call 205-348-3343.