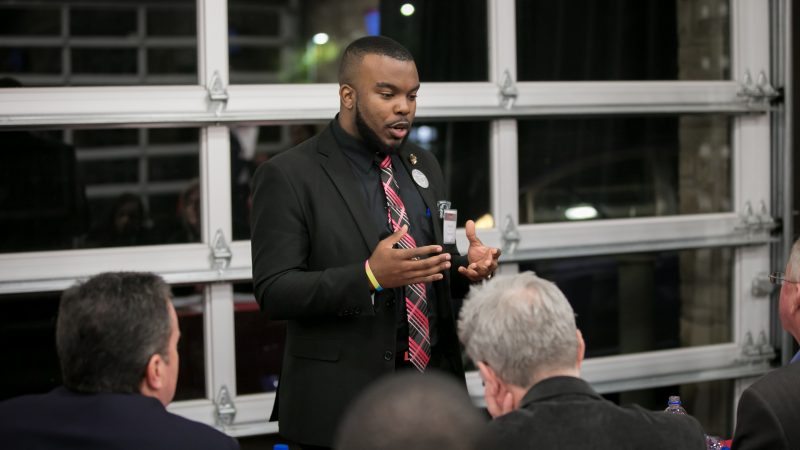 Upcoming Global Entrepreneurship Week Offers Opportunities for UA and Tuscaloosa-area Innovators
UA's Alabama Entrepreneurship Institute Promises Full Slate of Activities to Engage, Support West Alabama Business Ecosystem
TUSCALOOSA, Ala.– Global Entrepreneurship Week, or GEW, is one week each year that the Global Entrepreneurship Network dedicates to celebrating innovation and collaboration among individuals around the world. For 2021, GEW takes place November 8-14.
UA's Alabama Entrepreneurship Institute, or AEI, will host several pitching, learning, and networking events as part of GEW to foster the entrepreneurial mindsets of University of Alabama students, faculty and staff, and area residents alike.
The headliner of Tuscaloosa's take on GEW is the River Pitch Business Idea Competition on Tuesday, November 9. The event, which is now in its fifth year, offers any budding entrepreneur with a solid idea an opportunity to pitch it in front of a panel of judges for a chance to win one of 10 $1,000 prizes.
Other events like a demo day and innovation challenges related to the Tuscaloosa City Schools system offer unique opportunities for the entrepreneurial community to connect – and learn – from each other.
All events are in-person and will follow all recommended COVID-19 health protocols. Several events may be attended virtually.
"The slate of events we're hosting promises to showcase the dynamic innovation community in Tuscaloosa," said AEI Executive Director Dr. Theresa M. Welbourne. "We have something very special here."
The current schedule of events for AEI's Global Entrepreneurship Week is on its website at entrepreneurship.ua.edu.
Tuscaloosa Global Entrepreneurship Week, Day-by-Day
Register for all events at entrepreneurship.ua.edu.
Learn About Tuscaloosa City Schools Innovation Challenge – Info Session
Monday, November 8th, 2021
11:30 A.M. – 1:00 P.M.
In-person at The EDGE (2627 10th Avenue, Tuscaloosa, AL)
Virtual accommodation (Zoom)
Representatives from Tuscaloosa City Schools will present their challenge focused on finding an innovative and effective solution to providing transportation for students attending a variety of different summer programs. The Challenge has 3 prizes associated with it: 1st prize of $750, a second prize of $500, and a third prize of $250. Also, the City Schools can be a first customer for the team or individual who has the most viable solution.
Local Entrepreneurs Panel
Monday, November 8th, 2021
6:30 – 8:00 P.M.
In-person at The EDGE (2627 10th Avenue, Tuscaloosa, AL)
Learn from entrepreneurs in Tuscaloosa about the vibrant innovative atmosphere within the city, and network with other entrepreneurs. Hosted by the Collegiate Entrepreneurship Organization (CEO).
River Pitch Competition
November 9th, 2021
5:00 – 9:00 P.M.
In-person at the Tuscaloosa River Market
The River Pitch Business Idea Competition was created to help ideas and early-stage businesses further progress. You have 3 minutes to pitch one business idea. There is no entry fee, and the event is open to both students and community members alike. Register today to have a chance to compete for 10 different $1,000 prizes for your business!
Demo Day at The EDGE
Thursday, November 11th, 2021
11:00 A.M. – 7:00 P.M.
In-person at The EDGE (2627 10th Avenue, Tuscaloosa, AL)
Network with local startups and learn about companies that are based here in Tuscaloosa. Entrepreneurs will be showcasing their businesses and workshops will be held all day.
Tuscaloosa City School Innovation Challenge
Watch pitch presentations to find out who wins.
Friday, November 12th, 2021
11:30 A.M. – 1:00 P.M.
In-person at The EDGE (2627 10th Avenue, Tuscaloosa, AL)