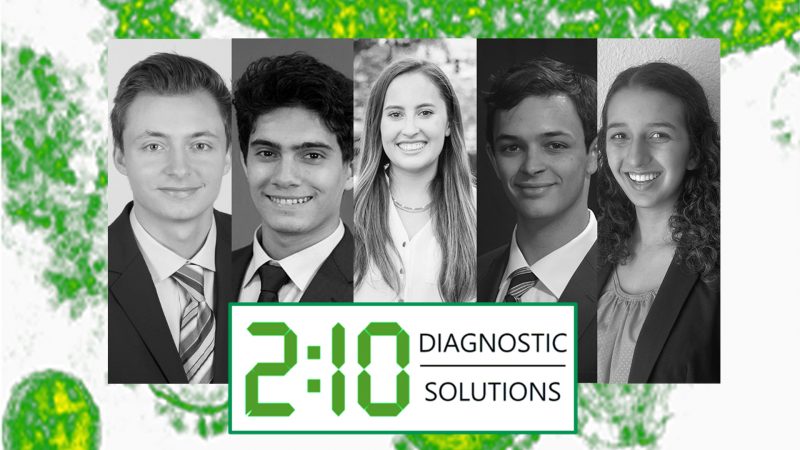 UA Students Named Winners of Innovate Children's Health Challenge
By Stephanie Cohen
Five UA students are gearing up to pitch their startup, 210 Diagnostic Solutions, to National Institutes of Health investors following their Innovate Children's Health Challenge victory.
Nicholas Beyer, Laura Carrasquilla, Reeva Kedia, Luke Navarro, and Tristan Reynolds came up with the idea for 210 Diagnostic Solutions, a technique that diagnoses autoimmune and infectious diseases through a rapid-response antibody test that yields results in three and a half minutes, or 210 seconds.
Their ultimate goal was to "shorten waiting times, increase accuracy and sensitivity, and reduce the costs associated with antibody testing…, particularly in the pediatric realm of care" Beyer, the group's team lead, said.
Elizabeth Jernigan, instructor of marketing for the Culverhouse College of Business, served as the faculty mentor for Beyer, Carrasquilla, Kedia, Navarro, and Reynolds. The team also worked with Dr. Robert Morgan, Director of the STEM/CREATE Paths to the MBA program at Culverhouse; and Harold Wright, a faculty member who is also affiliated with the STEM/CREATE Paths to the MBA.
"This is a pretty big deal," Dr. Morgan said. "We've been participating in this series of competitions with the NIH for several years and this is the first time we've made it to the investor round."
Beyer and his team will be working closely with the NIH and Center for Advancing Innovation in the coming weeks to prepare for the Investor Forum on April 23.
The CAI, in partnership with the NIH and Resonance Philanthropies of the Silicon Valley Community Foundation, orchestrates the ICHC each year. The main purpose for the competition is to devise innovative techniques and technology to improve children's health worldwide. The contest is open to anyone around the world, and people can enter the contest individually or on a team. Learn more here.