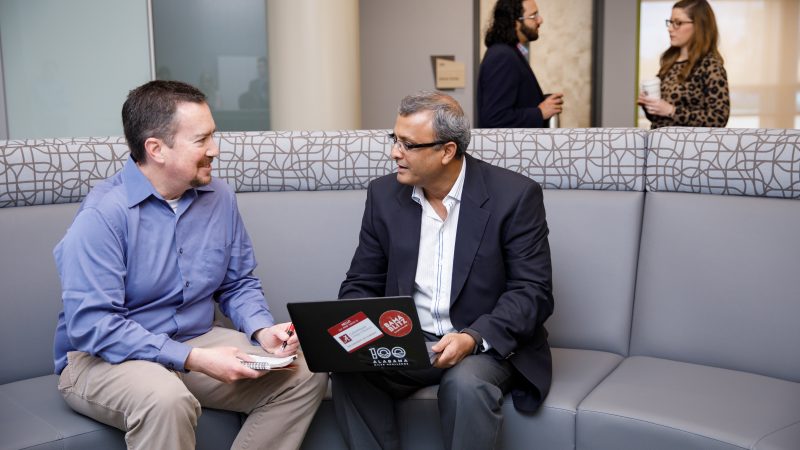 Registration Opens for UA Faculty and Staff Business Pitch Competition
Contact Dr. Theresa Welbourne, twelbourne@culverhouse.ua.edu or 205-348-8926.
TUSCALOOSA, ALA –– University of Alabama faculty and staff with a penchant for innovation and invention take note: on May 6, 2021, the Alabama Entrepreneurship Institute's Faculty and Staff Innovation 3-Minute Pitch Competition, returns.
At stake in the competition is $10,000 in prizes provided by UA's Office for Research and Economic Development. All winners will also get in-kind business planning assistance courtesy of the AEI and support for the advancement of their ideas with access to analytical and prototype development equipment at EDGE Labs.
Furthermore, a $10,000 Innovative Technology Grand Prize presented by the Alabama Power Foundation goes to the best technology-focused idea that has the potential to drive a new business or commercialization.
"Last year's competition, the first of its kind for the UA campus, allowed our colleagues to show us their best business concepts or innovations," said Dr. Theresa M. Welbourne, executive director of the Alabama Entrepreneurship Institute."
"Our hope for this year is that we build on that momentum by identifying ideas that, with some working capital and assistance, can enter into the marketplace."
Last year's winner of the Alabama Power Foundation Grand Prize was Jason Bara, Associate Professor, in UA's College of Engineering, with a concept built around upcycling of waste plastics. The first prize winner was Silvana Croope, a resilience research engineer with the Alabama Transportation Policy Research Center, with an idea for low-cost water sensors. More about the 2020 winners here.
The deadline to register for the May 6 competition is April 22.
More info, including other deadlines and requirements, is on the competition website here.
About the Alabama Entrepreneurship Institute
The mission of AEI is to become a magnet program for UA innovators, inventors, and entrepreneurs (faculty, staff, and students) as well as the people who support their work. Through programming, research, and the use of incubator spaces on and off-campus, AEI spurs the growth of innovation, new jobs, and businesses as well as sharing research-based best practices. More at aei.culverhouse.ua.edu.