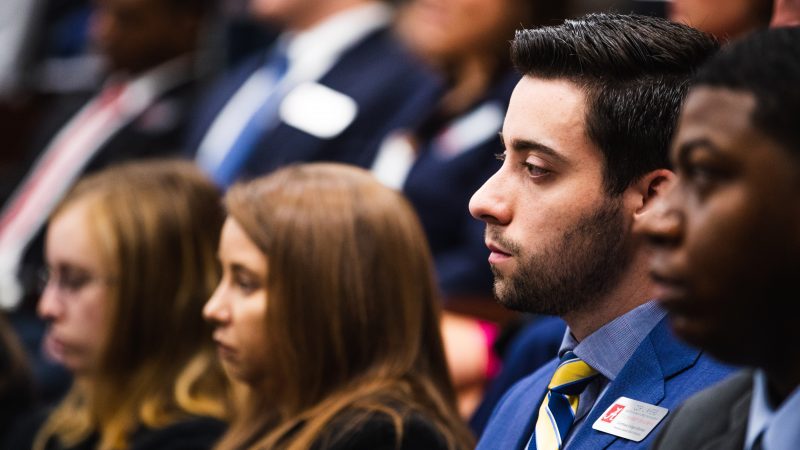 Manderson MBA Again Among Best Programs for 2022
TUSCALOOSA, AL –– The MBA program at The University of Alabama's Manderson Graduate School of Business retains its position solidly among the top-50 MBA programs in the country. U.S. News & World Report's 2022 Best Graduate Schools list ranks Manderson's full-time MBA program 44th, and 22nd among all public institutions. This placing comes after large jumps in the rankings over the past several years. The program is now sixth in the Southeastern Conference.
More information about the Manderson MBA, including application info, is available here.
"Holding steady in the rankings amongst the most prestigious programs in the country shows that what we're doing is working, especially given the effects of the pandemic," said Dr. Sharif Melouk, associate dean of the Manderson Graduate School of Business, which is housed within UA's Culverhouse College of Business.
"Thanks to the hard work of our team and the high caliber of the students drawn to our program, we've held our ground."
When it comes to the metrics used to determine its annual MBA program rankings, which for 2022 includes 143 programs in total, U.S. News & World Report relies on peer and recruiter assessments, student career outcomes, and incoming student GPAs and acceptance rates, among other data. 
A factor in Manderson's favor include the program's affordability –– among the better values for an MBA.
Focused Areas of Study offered as part of the Manderson MBA include business analytics, finance, financial risk, management and marketing strategy, management information systems, real estate, and supply chain and operations management. A new cybersecurity option will be available this coming fall.
Culverhouse Dean Kay M. Palan said, "Our Manderson MBA has a lot of momentum behind it, which can be attributed in large part to the efforts of our faculty and staff and the exceptional quality of students drawn to what is again a top-50 program."
"We're excited to welcome the incoming cohort later this year."
About the University of Alabama's Manderson Graduate School of Business
Housed within the AACSB-accredited Culverhouse College of Business at The University of Alabama, the Manderson Graduate School of Business offers a number of programs, including top-ranked master's degrees in accountancy, business administration, operations management, management, and marketing. Its Executive MBA program offers two distinct programs in Huntsville and Tuscaloosa. New master's offerings in business analytics and management information systems allow students to become equipped with technical skills and leadership capabilities in rapidly-evolving areas.
The Manderson Graduate School of Business currently serves more than 600 graduate business students.