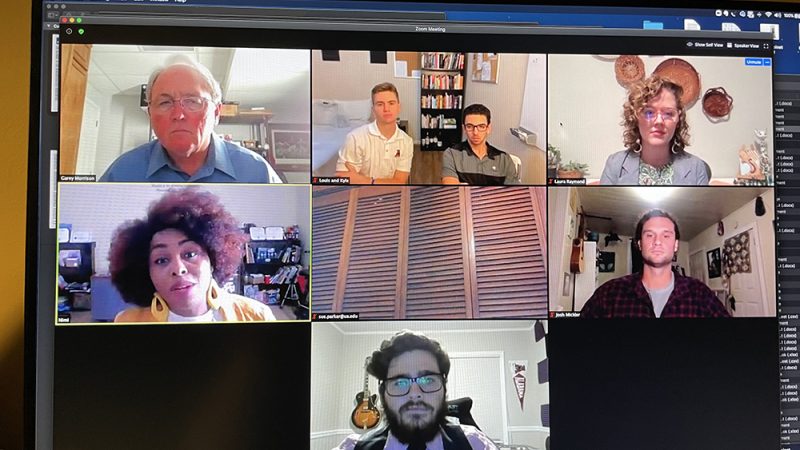 A Virtual Gathering of Entrepreneurs
TUSCALOOSA, Ala.– Last week, the Alabama Entrepreneurship Institute hosted several virtual events over the course of three days to celebrate Global Entrepreneurship Week (GEW). GEW occurs each year to encourage innovation and collaboration worldwide. Typically, GEW workshops, competitions, and networking events take place in an energetic, in-person environment. Due to the COVID-19 pandemic, however, AEI held each of the events virtually this year.
AEI Executive Director Theresa Welbourne kicked off GEW alongside Jim Page, president and CEO of the Chamber of Commerce of West Alabama on Monday, Nov. 16. The two introduced State Representative and Chair of the Alabama Innovation Commission Bill Poole, who spoke to the importance of building a stronger entrepreneurial culture within the state of Alabama. Poole's session focused largely on how members of the AIC are working to generate a business environment throughout Alabama that is attractive to investors, venture capital and technology companies, which would help the state's business and startup presence grow significantly.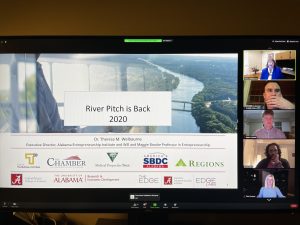 Torin Brazzle, executive director of IGNITE! Alabama, who presented the second keynote, spoke about how business owners can change their mindsets and alter their approaches to overcome the many obstacles they will face throughout the life cycle of their business. She emphasized that challenges come in all shapes and sizes and that with every hurdle comes an opportunity.
Additional speakers throughout the week included Lauren Wilson, assistant VP for Research at UA; Katherine Zobre, business advisor for the Alabama SBDC Network; and Justin Fenchel, co-founder, and CEO of Future/Proof, formerly known as BeatBox beverages.
One of the highlights of GEW was the annual River Pitch Competition. During this event, open to UA students, faculty, staff, and other members of the West Alabama community, teams had three minutes to present their startup ideas to a panel of judges. The teams then had five minutes to answer the judges' questions. After a period of deliberation, the judges announced the first and second prize winners, who were awarded $1,000 and $250 each, respectively.
See a full list of River Pitch winners here.
The week concluded in a startup exhibit meet and greet, which was a networking event where registrants met and interacted in virtual booths with local startups, UA student programs, faculty, and sponsors.
The virtual environment did not seem to deter individuals from registering for events throughout the week. This year, 215 people registered for events, and 40 teams registered for the River Pitch Competition. About half of those teams were associated with the University, while the other half comprised of West Alabama community members.
"I am thrilled with the turnout we had for GEW events this year, especially with everything else that is going on in the world," Welbourne said. "I think it speaks volumes to the determination of our students, faculty, and community members to promote a more competitive and innovative entrepreneurial atmosphere throughout the state of Alabama."
For more information, visit entrepreneurship.ua.edu or call +1-205-348-3343.