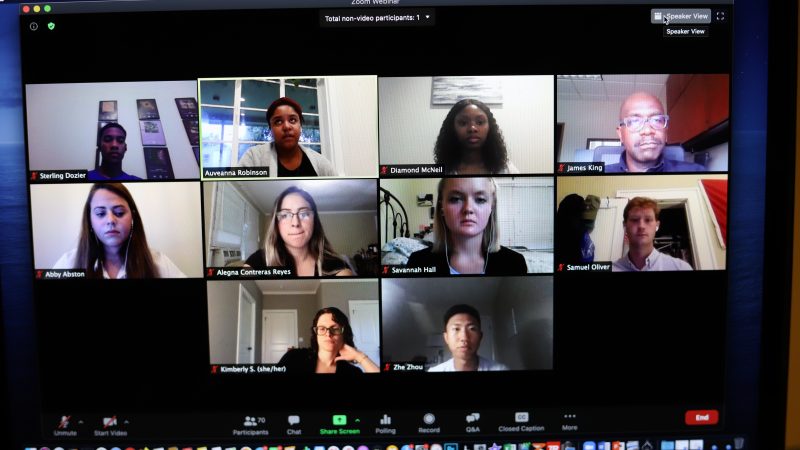 Race and Coronavirus Pandemic Focus of "As We See It" Panel Discussion
By Stephanie Cohen
On August 25, Dr. James E. King Jr., Culverhouse's Associate Dean for Diversity, Equity and Inclusion, invited Culverhouse students to take part in a panel discussion "As We See it: Student Perspectives on the Pandemic and Racial Dynamics of 2020." This discussion provided students with an outlet to express their feelings and emotions regarding recent events that have shaped much of 2020, and a faculty a chance to hear from and ask the students questions. The discussion began with students sharing their thoughts about the COVID-19 pandemic, The University of Alabama's transition to remote learning, and how the virus impacted their summers.
In March 2020, students, faculty, and staff alike needed to quickly adapt to the virtual world when the pandemic picked up momentum and forced UA to halt in-person instruction. This was a stressful time for students, who received an email during spring break informing them that UA would employ a virtual learning approach to close out the remainder of the semester. Students living on-campus suddenly had to figure out how they were going to retrieve their belongings from their living spaces and how they would get home.
Panelist Auveanna Robinson, an undergraduate accounting student, was working as an RA before students were sent home for the semester.
She described the Friday before spring break as "chaotic," as UA informed students that the break would be extended for one week just the day before. Many students had a feeling that they would not be returning after the break, so they scrambled to get their things together. They were coming to Robinson for the answers that she didn't have–nobody did.
As the virus continued to spread, uncertainty continued to permeate peoples' lives, and students realized that their summers would likely look different from what they had expected before the outbreak of COVID-19. Many companies were forced to move their internship programs online or cancel them outright. Manderson MBA candidate Abby Abston, who interned for Regions Bank in Birmingham over the summer, discussed the challenges of completing her internship remotely.
Abston was grateful that her internship was still able to happen, but said it was difficult to demonstrate her work ethic through virtual projects. She explained that HR interns are judged primarily by their attentiveness, willingness to learn and coachability, which was "hard to convey via Zoom meetings." She also spoke about job uncertainty resulting from the pandemic. "[Regions] is on a hiring freeze now…so it's difficult that this could have affected whether or not I got a job offer come May 2021."
Next, the discussion turned towards the social unrest and movements against racial injustice following the killing of George Floyd. Samuel Oliver, an MBA candidate, said that when he first saw the video of the police brutality against Floyd that circulated throughout the country, he didn't realize that it was something that had just recently happened. "Nobody can see that video and not be deeply disturbed by it," Oliver said.
He also mentioned that the pandemic may have been a good thing during this time, because people were forced to be at home and face the situation at hand. People had no choice but to have difficult conversations with their families and friends. Oliver was encouraged by the amount of people of all races throughout the country who came together to protest racial injustice, and said it made him optimistic for his generation in the future.
These conversations and experiences that followed George Floyd's killing made Oliver realize that "you can't be silent about these things; you really gotta speak up."
Finally, the panelists began to talk about how they felt beginning a new semester during this time. Robinson explained that while the University as a whole has "a lot of work to do," Dr. King is working hard behind the scenes to ensure that Culverhouse is more inclusive. She said that creating an environment that promotes and celebrates diversity is essential for the well-being of all students, especially in terms of their mental health.
Robinson praised Dr. King's efforts to support the diverse organizations within Culverhouse, because she believes it will make a huge difference for students who are currently struggling with feeling isolated and finding it challenging to connect with others. "When you find your niche of people and know you're not alone…your trajectory of happiness totally changes."
Robinson also commended Culverhouse for being proactive in reserving classrooms across UA's campus to ensure that they could hold as many in-person classes as possible. There have been several instances of classes within Culverhouse that started out as virtual and are now offering face-to-face sections. Robinson, Oliver, and Abston all agree that while virtual learning is still a challenge, their professors are doing a good job transitioning into this semester and are well-prepared to teach their curriculum efficiently through any of the three modes of instruction: online, hybrid, or face-to-face.
Dr. King hopes that this panel discussion will help shape more in the future. He wants to continue to organize more of these panels to stimulate the difficult conversations that are necessary in order for faculty to understand students' perspectives with respect to prevalent themes in today's society. By listening to students' perspectives, Dr. King believes that faculty members will be able to better understand how to be resources to them, in turn creating a more positive environment for everybody.
More about Culverhouse's approach toward fostering conversations about diversity, equity, inclusion and current events at diversity.culverhouse.ua.edu.