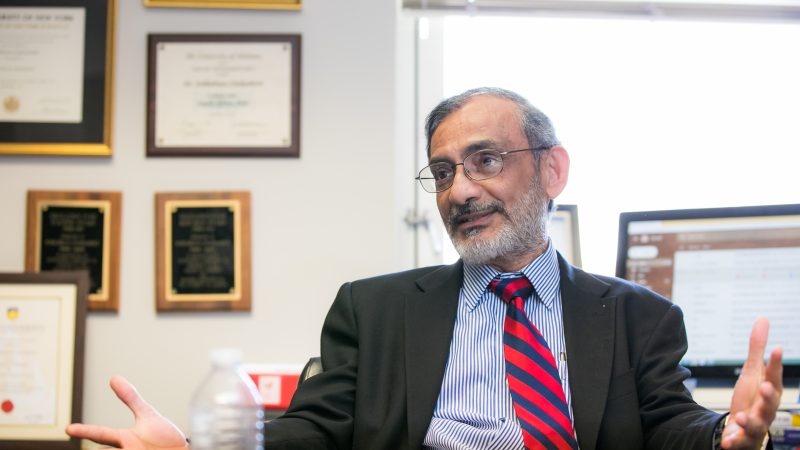 Chakraborti Wins Fulbright, Second of Career
Acclaimed statistician Dr. Subha Chakraborti, the Robert C. & Rosa P. Morrow Faculty Excellence Fellow and professor in Culverhouse's Department of Information Systems, Statistics, and Management Science has been awarded a Fulbright scholarship, the second one of his career.
The Fulbright U.S. Scholar Program offers teaching, research or combination teaching/research awards in over 125 countries.  Dr. Chakraborti was selected by the J. William Fulbright Foreign Scholarship Board to study and collaborate on statistics teaching and research projects at a university in Brazil. The project was expected to start in the summer of 2020 and extend through a two-year period only during the summers, but with the current coronavirus pandemic drastically affecting travel and in-person gatherings, those plans are now up in the air.
Once he is able to travel, Dr. Chakraborti will be based at the Federal University of São Carlos, which is located about two hours south of the city of Sao Paolo.
His work will be in the area of statistical process monitoring, which will involve research on developing new methodologies and their applications.
Dr. Chakraborti has had an existing working relationship with Brazil.  He has worked with Dr. E.K. Epprecht and has co-advised two doctoral students, affiliated with the Pontifical Catholic University of Rio de Janeiro (in Portuguese, Pontifícia Universidade Católica do Rio de Janeiro, abbreviated as PUC-Rio).  These students have visited the University of Alabama to work with him and are now faculty members in different universities.  Together they have co-authored nine peer-reviewed journal articles with those scholars.   As a result, those collaborations are expected to increase.
In applying, Dr. Chakraborti got the support of experts in the field and his department chair Dr. John Mittenthal, who wrote a letter of support, "Dr. Chakraborti's efforts bring continued recognition to the statistics faculty in the Culverhouse College of Business. This group includes two fellows of the American Statistical Association (ASA), and two editors of chief of academic journals."
"I have every expectation that if given the opportunity Dr. Chakraborti will deliver a pair of stimulating seminars, and deepen existing relationships as well as develop new ones."
Prof. Chakraborti says:
I am excited and honored to receive my second Fulbright Scholar award.  I am fortunate to have the opportunity, to be selected among many well-deserving candidates. I am looking forward to traveling to Brazil when restrictions are lifted and making contributions to their teaching, research, mentoring programs and developing new relationships.
When 15 years ago, he won a Fulbright Scholar award to South Africa, his first. About that experience, he said, "It was a fantastic experience for me professionally and personally and it has literally been a life changing experience. I am passionate about sharing knowledge and helping others.  The Fulbright awards provide an ideal way to doing this.  Not only do we get to teach others what we know, we learn a lot from them, we get to interact with people and their culture.  That's the best of both worlds."
---
More About Dr. Subha Chakraborti
Professor Chakraborti has authored/co-authored over 100 publications in a variety of journals such as The Journal of the Royal Statistical Society, Technometrics, Journal of Quality Technology, Quality Engineering, Quality and Reliability Engineering International, Review of Economics and Statistics, Economics Letters, Biometrical Journal, International Journal of Advanced Manufacturing Technology, IEEE-Transactions, Communications in Statistics, Journal of Applied Statistics, Journal of Experimental Educationand Statistica Neerlandica.
His research has been supported by agencies like the Council of International Exchange of Scholars, the North Atlantic Treaty Organization, the Turkish Research Organization TUBITAK, the South African National Research Foundation, the Brazilian Research Foundation, and the Philips Corporation.
Highly cited for his research publications, he is the co-author of the well-known book Nonparametric Statistical Inference, fifth edition (2010), published by Taylor and Francis.  In 2019, he co-authored the book Nonparametric Statistical Process Control published by John Wiley with his former student from South Africa.  He has been among the pioneers in this new field of research.
Professor Chakraborti has also travelled the world.   He has been a visiting professor at Pennsylvania State University, University of North Carolina at Chapel Hill, University of California at Berkeley, and various universities in the Netherlands, Brazil, Turkey, India, and South Africa.
He has been an invited speaker and a keynote speaker at numerous national and international conferences. He has received many awards.  He was recently selected as the 2020 SEC Professor of the year from the University of Alabama. He also received the 2019 Burnum Distinguished Faculty Award at the University of Alabama.  Early in his career, he received the 1988-89 Burlington Northern Faculty Achievement Award at The University of Alabama for excellence in teaching. He has also been the winner of the C&BA Excellence Fund Research Award in both teaching and research several times.  He is a Fellow of the American Statistical Association.  He has been awarded Extraordinary Professorship at the University of Pretoria in South Africa and an Honorary Professorship at the Amity University in New Delhi, India.  He has received Faculty Fellowship Awardfrom DAAD, the German Academic Exchange Service and has been an invited Visiting Professor at CSIRO in Sydney, Australia.
Professor Chakraborti has served as an Associate Editor of several professional journals in his field like the Communications in Statistics for over twenty years and Quality Engineering.  He also provides professional service as a reviewer for various agencies.
He has been cited for his mentoring work with young scholars from around the world. He has been a member of the American Statistical Association for thirty-eight years.