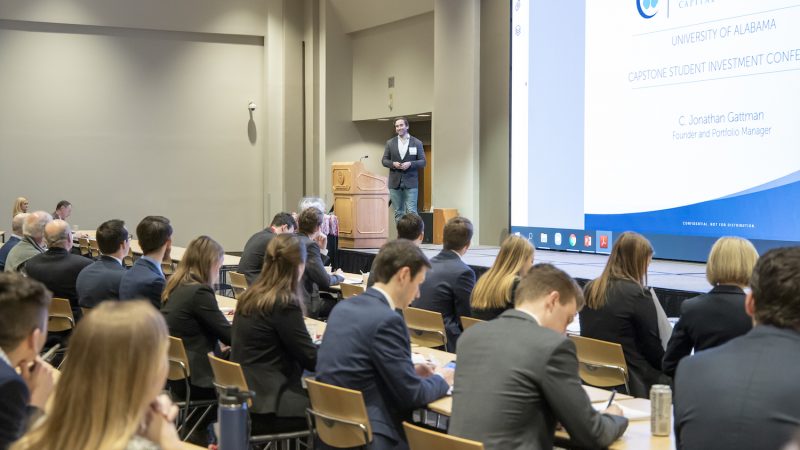 Investing, Finance, Breaking News Discussed at CSIC 2020
On Saturday, February 29, 2020, at the Capstone Student Investment Conference, over 300 people converged on the Bryant Conference Center in Tuscaloosa to hear some of the best minds in finance and investing present their own unique vantage points on specific sectors and the overall investing climate. The speakers at CSIC included:
Dan Davidowitz, Portfolio Manager, Head of Large Company Growth Team, Polen Capital
C.T. Fitzpatrick, Founder, Chief Executive Officer, Chief Investment Officer, Vulcan Value Partners
Jonathan Gattman, Founder, Managing Partner, Cloverdale Capital
Billy J. Hwan, Co-Portfolio Manager, Parnassus Endeavor Fund
Christopher Kiper, Founder, Managing Director, Legion Partners
Mark Millsap, Partner, Portfolio Manager, Foundation Resource Management
Derek Pilecki, Founder, Portfolio Manager, Gator Capital Management
James Roumell, Founder, Portfolio Manager, Roumell Asset Management
Adam Schwartz, Senior Managing Director, Portfolio Manager, First Manhattan Co.
Julie Stewart, Managing Director of Investor Relations, Delta Air Lines
Jennifer Wallace, Founder, Chief Investment Officer, Summit Street Capital
More more info on CSIC, including the specific agenda of the day, visit its website here. 
Scenes from CSIC 2020