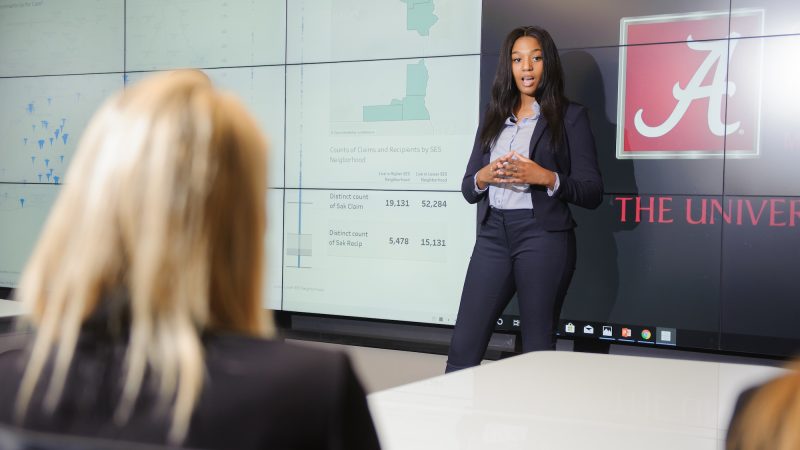 New Manderson MSMIS Degree to Develop Information Technology Leaders
TUSCALOOSA, Ala. — A benchmark-setting program in information technology education at The University of Alabama now sets an even higher standard with the addition of a new master's degree offering. The Master of Science in Management Information Systems offered by the Manderson Graduate School of Business in the Culverhouse College of Business prepares students to contribute to and, ultimately, lead teams that effectively address real-world business software and IT needs.
The Master of Science in Management Information Systems, or MSMIS, is a one-year, on-campus, full-time program. In addition to a general focus on creating systems solutions, the program emphasizes cybersecurity and decision analytics, which represent some of the most important and rapidly evolving areas in the world of information technology.
"Virtually all software used today—the source of so much automation and disruptive innovation in our world—is created by human beings. Simply put, software cannot create new software. As a result, there is an explosion of demand for people with both software development and project management skills," said Dr. Gary Spurrier, the MSMIS program coordinator.
"Our program addresses that demand by fine-tuning technical capabilities and cultivating personnel and project management competencies."
The Manderson MSMIS includes coursework in programming, database management, business analytics, cybersecurity, and cybercrime and digital forensics. It also focuses on growing a student's capacity to envision and deploy creative IT solutions to address business problems.
Dr. John Mittenthal, the chair of Culverhouse's Information Systems, Statistics, and Management Science department, which is the home to the MSMIS program, said, "Graduates of the MSMIS program can expect to be well-prepared to lead and manage projects while also gaining deep understanding of technical processes."
Master's degrees offered through the Manderson Graduate School of Business reflect a diverse range of missions and objectives. Enrollment in all master's programs is limited and competitive. Admissions are supervised by committees of the graduate faculty in each of the academic programs. More info about the program, including admissions requirements, are available on the program's web page.
For specific questions about the MSMIS, contact Jan Jones, Director of Specialized Master's Programs, at 205-348-7221 or jjones@culverhouse.ua.edu.