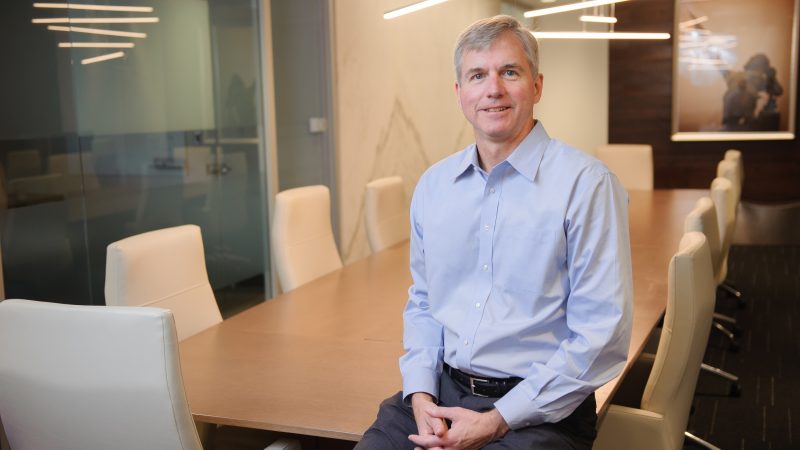 John Heins Recognized with Advisor of the Year Award
The Service & Leadership Awards is an annual event held in April to honor the many contributions of organizations on The University of Alabama campus, as well as the individuals that exemplify service and leadership within the UA community. The ceremony is hosted by Student Involvement, The SOURCE, the Center for Service & Leadership, Safe Zone, and the Capstone Heroes Committee.
These are the highest honors that can be bestowed upon student organizations and individuals in regards to campus leadership and service.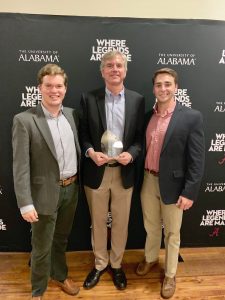 At the most recent Service & Leadership Awards ceremony on April 9, 2019, Culverhouse faculty member John Heins was the recipient of the "John L. Blackburn Advisor of the Year" award. Heins, who is the faculty advisor of the college's Culverhouse Investment Management Group (CIMG) and who oversees the Vulcan Value Partners Research Library and Trading Room, was delighted to win the award. He said, "That I am able to work with and contribute to a group like CIMG is truly a pleasure, and makes my own life more interesting and fulfilling."
"I appreciate the recognition of CIMG that this award reflects. We'll do our best to keep up the good work.
About CIMG itself, he said that, "The students are engaged, work very hard, are eager to both learn and teach, and hold themselves and the work they do to a very high standard."
"As a result, they learn on a variety of fronts a number of skills that contribute to their being a bit better prepared to go out in the world and do interesting and fulfilling things. There's little more to ask of an educational experience."
With an extraordinarily extensive professional background as a media executive focusing on the finance sector, Heins brings a wealth of expertise to his role as Culverhouse's Fitzpatrick Endowed Professor of Value Investing. The number of students participating in the value investing concentration that he teaches has grown significantly owing to its reputation for excellence under his leadership.
In the remarks to welcome him to the awards podium, Ashley Cofield, Coordinator of Student Involvement and an advisor at The SOURCE, read from remarks prepared by CIMG students, "Before John, CIMG was more or less a group of wide-eyed aspiring stock pickers pretending to be professional asset managers."
"With his guidance, the quality of our stock pitches, the culture of our group, and the professionalism of our conduct have all seen tremendous strides in only a short time; and this "onward and upward" mentality has baked itself into the consciousness of our organization."
The Culverhouse College of Business wholeheartedly congratulates Heins on this honor.