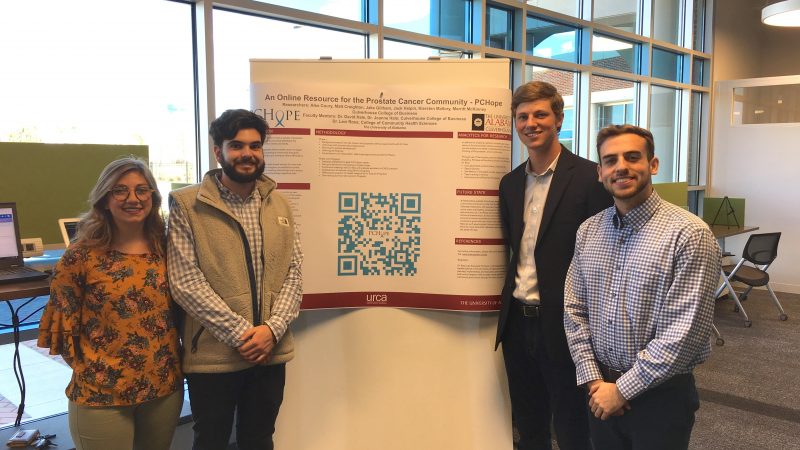 Undergraduate Culverhouse Research on Display at URCA
Nearly 500 undergraduate students at The University of Alabama are highlighting their research and creative projects during the Undergraduate Research and Creative Activity Conference March 27.
The 12th annual conference is hosted by UA's Office for Undergraduate Research and the Office for Research and Economic Development.
View a gallery of photos from the 2019 Undergraduate Research and Creative Activity Conference.
The conference spurs interest in research among undergraduate students and helps students polish their communication skills, said Dr. Kim Bissell, director of the Office for Undergraduate Research.
"We have got some pretty phenomenal students who are truly doing great things," she said.
Students compete for cash prizes and gain experience in presenting and defending their research projects to judges during the poster presentations. In preparation for the event, students pair with faculty mentors who guide them through the development of their projects.
Culverhouse students who are participating at URCA include:
Claire Atkins – Predicting Audit Quality based on Digital Footprints gathered from Social Media   (with Chezham Sealy)
Karli Filips – Hiring and Assimilating Disabled Workers into Distribution Centers  (with Alex Ellinger)
Connor Best – Locus of Control and Charitable Giving  (with Michael Price)
Katelynn Davis – The Effects of Long-term Stress and Congestion on Time Preferences   (with Michael Price)
Lauren Dutch – How Female CEOs Shatter the Glass Ceiling   (with Lixiong Guo)
Matthew Fisher – State Lottery Demand Analysis  (with Erik Johnson)
Sydney Gabrielson – Flow of Capital in Developing Nations  (with John Heins)
Abigail Gorbett – Which Global- and Country-Level Economic Changes Matter Most for Cross-Border Mergers and Acquisitions?  (with Paul Drnevich)
Mac Hanslip – Effect of Personal Relationships on Banking Behavior  (with Josh Pierce)
Lauren Johnson – Does Non-Tax Revenue Reduce Political Accountability?   (with Traviss Cassidy)
Asaf Katzir – Fund managers and Morningstar: a dynamic analysis of mutual fund risk profiles  (with Christopher Whaley)
Jordyn Kent – Star Wars: Rent-Seeking for Morningstar Ratings  (with Christopher Whaley)
Michael O'Grady – Automated Assessments Using Google Streetview and Tenrsorflow  (with Erik Johnson)
Jake Sinacori – Klaro Aqua Water Filtration Business Proposal for Mexico  (with Kimberly Williams)
Michael Smith – Network Spillovers in Contests  (with Paan Jindapon)
Andrew Sudol – Cuba's New Real Estate Market and Its Ramifications  (with Quoc Hoang)
Jack Halpin – An Online Resource for the Prostate Cancer Community – PCHope  (with David Hale)
Erin Jacobs – Shields Up! An Examination of Organizational Changeover Following Significant Data Breaches  (with Matthew Hudnall)
Erin Jacobs – Examining Educators: A Workforce of Disproportionality  (with Darren Surman)
David McDowell – Analysis of Domain Name Server Traffic on Tor Network Exit Node
Chris McKinley – Visual First in AGILE development  (with Greg Cottrell)
Elise Batchev – Effects of Perspective on Donating Behavior  (with Carlos Bauer)
Rebekah Brunner – 2019 IPOs– Where are the Women?  (with Theresa Welbourne)
Lena Brysacz – Facebook Marketing at Pickens County Medical Center  (with Jef Naidoo)
Riley Doyle –  New Venture Creation through Incubators & Accelerators: What Value Is Created and Who Captures It? Implications for Research, Teaching, and Practice  (with Paul Drnevich)
Cassandra Horkan – Keep Droning On  (with Paul Drnevich)
Gretchen Johnson – New Venture Challenges and Growth  (with Lou  Marino)
Sarah Lessley – The Next Generation of Marketing: Entering the Digital Age  (with Susan Fant)
Courtney Oleksa – Examining the Relationship Between Creativity Goal Orientation and Self-Reported Creativity in Occupational Therapists  (with Russell Matthews)
Emily Passmore – The Socio-Economic Impact of Nonprofits in West Alabama  (with David Ford)
Carter Shelton – The Evolution of Technology and Its Impact on Patient Outcomes in Healthcare  (with Kimberly Stowers)
Kailey Sonricker – Setting the Tone for Executives: A look at how article tone impacts the performance perception of male vs. female CEOs              **SUBJECT TO CHANGE  (with Vishal Gupta)
Kayla Merritt and Caneel VanNostrand – Kitschy Packaging: How Consumer Expertise and Product Packaging Impact Perceptions  (with Stacey Robinson and Clay Voorhees)