Dulek Recipient of UA's Algernon Sydney Sullivan Award
The University of Alabama annually recognizes top individuals on campus for scholarship, leadership and service with the Premier Awards, distributed at a dinner and throughout Honors Week. The John R. Miller Professor of Management at Culverhouse, Dr. Ron Dulek, was 2019's recipient of the Algernon Sydney Sullivan Award, which honors one man and one woman of this academic year's graduating class as well as one non-student.
Students and colleagues are impressed deeply by Dr. Ronald Dulek's commitment to teaching and service – so much so that his influence resonates long after graduation.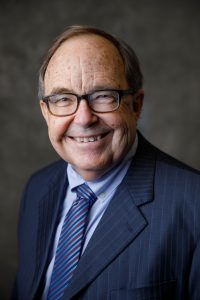 Dulek, the John R. Miller Professor of Management, was appointed in 2002. He has published more than 40 articles and is co-author of six books on business communication, including "Strategic Messaging"; "Throw Me the Bottom-Line"; "Principles of Business Communication"; and "Bottom-Line Business Writing." He has presented papers at national and international conferences and has worked extensively in the area of strategic communication with IBM, OSHA Sony and Stora Enso.
Dulek, who holds a doctorate from Purdue University, has helped build his department in the Culverhouse College of Business,  much to the appreciation of his peers.
"Ron fulfills his service obligations willingly and with passion and true dedication. He served 17 years as head of the management and marketing department," said Dr. A.J. "Lonnie" Strickland, professor of strategic management. "Depending on the measure used, this department was either the largest or the second largest on campus throughout that time. The number of management majors grew by more than 1,100 percent during the period of his leadership." Dulek has a long history with UA's Premier Awards. He is an original member of the Morris Lehman Mayer Award Board. One of Mayer's closest friends, Dulek has served as the chair of that board for the last five years.