Registration Now Open for Culverhouse LIFT Job Skills Training Program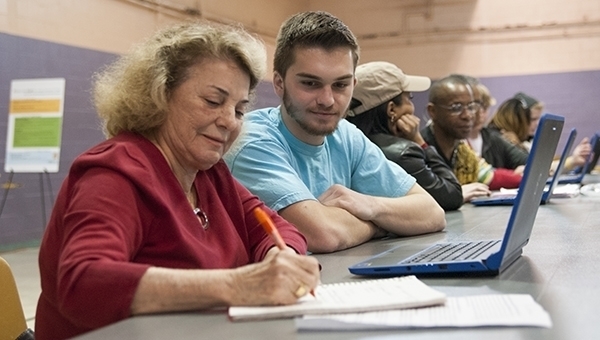 TUSCALOOSA, Ala.– The Culverhouse LIFT, or Learning Initiative and Financial Training, will begin classes for its fall term on Monday, Sept. 10. Registration for fall 2018 is open until 5 p.m. that day.
Sponsored by the Culverhouse College of Business and the Culverhouse School of Accountancy, LIFT provides free job skills and financial literacy training to adults, veterans, and teens in West Alabama communities. Sessions include: computer skills, bookkeeping, GED classes and professional development.
Created in 2014, LIFT utilizes student volunteers from within the business college to work one-on-one with community participants in a classroom setting.
"It's a one-on-one tutoring relationship between the student and the participant," said Culverhouse accounting lecturer, Lisa McKinney, CPA. "Because it's so intimate, the speed of learning is astronomically high as opposed to a regular class because every minute is for you."
Culverhouse LIFT operates in nearby Alabama towns and cities such as Greensboro and Birmingham, high schools and housing communities in the Tuscaloosa area, as well as the regional VA Medical Center. There are two sessions a year within the program: fall and spring. During each session participants and the student volunteers meet for nine weeks for 75 minutes per class.
"I learned about [Culverhouse] LIFT through Central High School, the school I work at," Linda Horn, a Tuscaloosa resident and LIFT participant, said. "[LIFT] taught me things that I didn't know and I can now apply those skills to my everyday life. The QuickBooks and Finance classes help me budget and save money. And I enjoy the young men and women that teach our class. I learn a lot from them."
Last year, the program started operations at the Bibb Correctional Facility in Brent, Alabama. At the facility, inmates who are about to be released learn how to use computers, answer interview questions, and create resumes.
Both the community and students have found success through LIFT. The program is student-run with over 350 class leaders and volunteers. With the program, students are able to take what they learn in the classroom, such as management skills and critical thinking, and apply it to the training sessions.
"Year after year, we've been able to grow LIFT into a critical resource for area residents to gain valuable job and personal finance skills," she said. "Through the experiential learning component of LIFT, our student volunteers learn how to become compassionate and effective business leaders, a capability that will serve them well once they graduate and start their careers."
To get involved, contact Lisa McKinney. All donations to LIFT are used to directly benefit community participants, funding resources that include student support, laptops, and computer program licenses. The program is also seeking speakers who can share business insights. For information on program support, contact Dr. Rich Houston.