Strategic Plan
The Culverhouse College of Business strategic plan outlines the College's major goals, specific objectives, strategies for achieving those objectives, and specific annual plans. The strategic plan guides the College as it carries out its mission.
The College is currently implementing its strategic plan from 2017. As we move into 2020 and 2021, the strategic planning committee is reviewing the existing plan and developing revised goals, objectives, strategies, and action plans to guide the college. A public process will commence in 2021.
The members of the Strategic Planning Committee are:
Ethan Cato, Student
Cory D'Az, Student
Kathryn Hornsby, Culverhouse Board of Visitors
M'Kaila Isom, Student
Carol Jones, Associate Professor of Marketing
Jan Jones, Director of Specialized Master's Programs
James King, Associate Dean for Diversity, Equity, & Inclusion
Jason Parton, Director of the Institute for Data and Analytics, Assistant Professor of Applied Statistics
Shane Stinson, Associate Professor of Accounting
Alan Tidwell, Associate Professor of Finance
Marilyn Whitman, Professor of Management
Kenny Wunder, Instructor of Finance
Kathy Deck, Executive Director of Strategic Initiatives
Kay Palan, Dean
Download the current draft of the strategic plan here: The 2017 Culverhouse Strategic Plan
---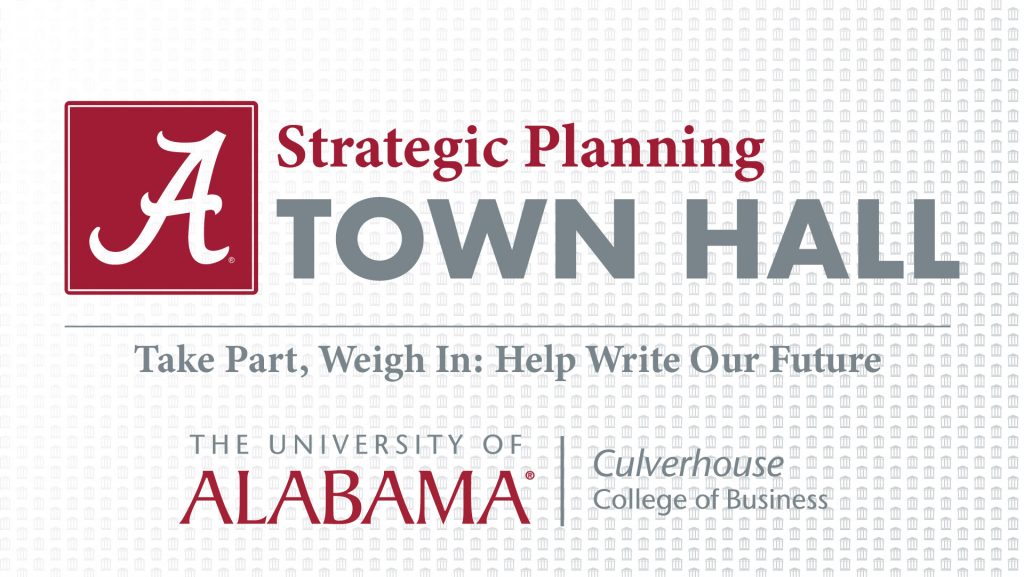 Strategic Planning Town Halls
The College has conducted several virtual town hall gatherings in the coming months to give all of our stakeholders –– which includes you –– the opportunity to hear more about the strategic planning process and to provide inputs and feedback for the committee to process as it finalizes its recommendations.
While the virtual town halls have ended, you can still participate by taking our Strategic Planning survey below.