Spring 2023 Lowder Lecture Series Concludes with Conversation on Leadership, Conflict, and Service
Culverhouse recently hosted Ginni Rometty for a Lowder Lecture focused on Rometty's new book, Good Power: Leading Positive Change in Our Lives, Work, and World, published in March by the Harvard Business Review Press. Rometty, the former Chairman, President, and CEO of IBM, was interviewed about the book by Culverhouse alumna Marillyn Hewson, former Chairman, President, and CEO of Lockheed Martin Corporation.
Hewson asked Rometty questions about the principles in her new book, and then took questions from the audience. A key theme of Rometty's book is that the concept of power has been recently misunderstood and cast in a negative light. Instead, she defines the characteristics of "good power" as embracing of conflict, being respectful not fearful, and celebrating progress instead of perfection.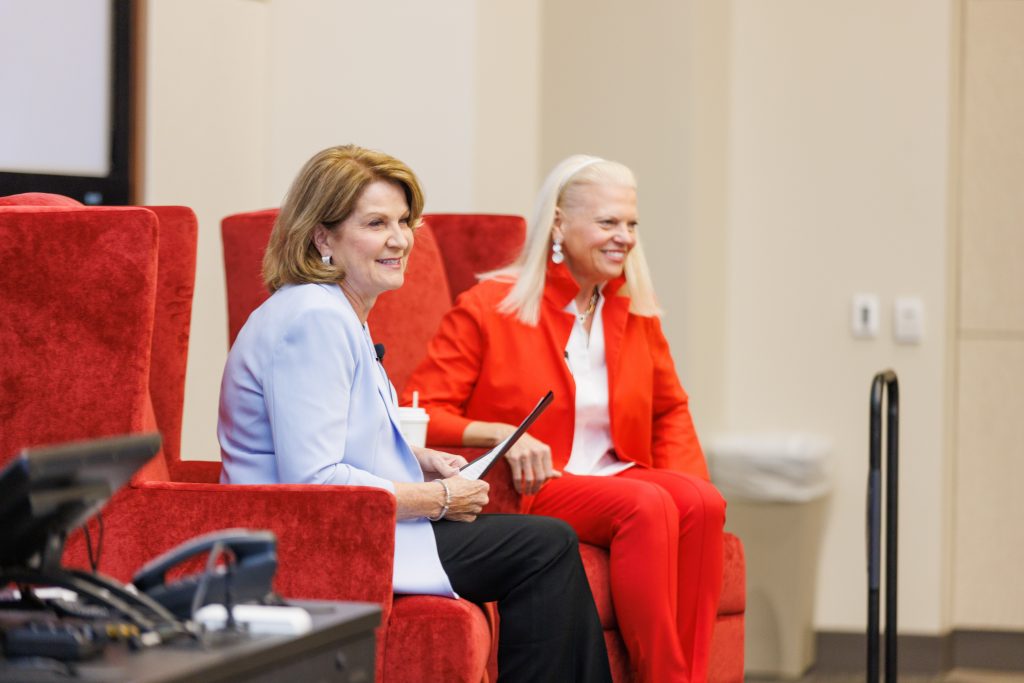 Rometty narrated the challenges in her early life, and how she came to view hard work as an accelerator out of poverty through her mother's efforts to provide for the family after Rometty's father abandoned them.
The experiences provided other lessons as well. "Never let someone else define who you are," she advised.
What else did she learn? "Aptitude and access are not the same things." In other words, many people are qualified for jobs in terms of skills, but denied access because of arbitrary requirements like the requirement of a college degree. She is co-chair of OneTen, a nonprofit that aims to connect Black talent to high-paying careers.
Rometty also shared principles to adopt in the pursuit of having a fulfilling life in leadership, including the need to determine what must change and what must endure when coming into a new organization or role. She also discussed the implications of AI technology—positive and negative—within the workforce context.
Copies of Good Power were provided to the 250+ lecture attendees, which the author signed after the lecture concluded. Her time on campus also included a lunch with students and administration to continue the conversation.