The University of Alabama annually recognizes six students and three faculty members for their outstanding contributions to the Capstone. The Premier Awards honor students, faculty and staff who exemplify the highest standards of scholarship, service, leadership and character.
The cohort for 2023 includes two Culverhouse-affiliated individuals:
The John Fraser Ramsey Award
This award recognizes a junior with the versatility of gifts and attainments, as well as the breadth of excellence in mind and character, that have traditionally been the goals of a liberal education.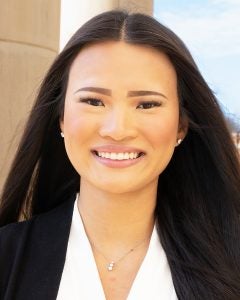 Mae Farmer
Mae Farmer has been on a mission to dispel stereotypes long before coming to The University of Alabama. But through her own experiences and her time at the Capstone she has learned how to create real advocacy and representation and has served her mission since day one.
Farmer is currently pursuing dual degrees. Upon graduation, she will have a bachelor of science in business commerce in accounting and a bachelor of arts in psychology. Academics are not her only strong suit. She's also passionate about advocating for her classmates' mental health needs. She is currently a peer coach at the Capstone Center for Student Success and a student assistant at the UA Counseling Center. Her long service record also includes serving as vice president of Student Tide Against Suicide.
In 2020, she founded aMAEzing.org, a site that serves as a launch pad for others who want to advocate for mental health in their respective communities.
Farmer is also a 2022 class member of the Blackburn Institute, participates in SGA Lobby Board, and is a council member on the Culverhouse Academic Honor Council.
She has also previously served on the DEI committee and as Health and Wellness Chair of Zeta Tau Alpha sorority and was alumni relations coordinator for BAMA NAMI, UA's chapter of the National Alliance on Mental Illness.
The Algernon Sydney Sullivan Award
This award recognizes excellence of character and service to humanity. It honors one man and one woman of the graduating class and one non-student who have been helpful and associated with the University.
Dr. Robert Brooks
Dr. Robert Brooks is the Wallace D. Malone Jr. Endowed Chair of Financial Management, a professor of finance and coordinator of the masters of science in finance program in the Culverhouse College of Business. He is renowned for not only inspiring his students but his colleagues as well.
Brooks has written eight books at both the graduate and undergraduate levels and serves in multiple consultation capacities in order to help individuals — particularly his students — businesses and organizations fully understand complex financial transactions so they can make truly informed decisions.
Colleagues and alumni alike point to Brooks' character and enthusiastic desire for his students to succeed as the most influential aspects of working with him and being in his classroom.
Students often line the hall to his office waiting for his advice and his fellow professors attest that he makes them better teachers and individuals, inspired by how he serves the UA and Tuscaloosa communities in ways many never see.