Culverhouse first-year student Angel Peterson has a decision to make. It's February now, but she is thinking about April: on the 22nd, should she attend A-Day on campus, since she has never been before? Or should she pursue a space at the Gardendale Magnolia festival for her business, Angel's Home Bakery?
Peterson, a finance major, is from Trussville, the fourth of five children. She has been in the kitchen since she was a little girl, but when she beat her father by family vote in a red velvet cake bake-off, she suspected she could earn more than family praise for her cakes. So she stayed in the kitchen, trying different recipes. At the end of 2021, as an experiment, she baked two cakes and brought them to her job–she worked at Jack's–to see if anyone would buy them. They both sold the same day.
So she came up with the business name, designed the logo, went down to the courthouse to get her business license, and hung out a shingle: she was in business. She did her first pop-up in January, 2022. She sold out, and Angel's Home Bakery has been selling treats at area events since then.
All of her profit, so far, has gone toward her tuition (she has a small scholarship, but also has to come up with money out-of-pocket). Her parents help as they are able, but Peterson likes to do things on her own. "One thing you can say," her proud mother likes to say, "you worked for your degree."
Peterson bakes a lot of things–by her estimation, she sells between 75 and 100 distinct products. She tries to switch up her offerings regularly, because everyone likes something different. Last semester, she spent a lot of time in the Tutweiler kitchen, baking this semester's tuition. Her favorite thing to bake? Banana pudding.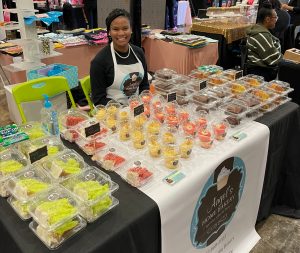 After graduation, she wants to go to work in finance, save money, and ultimately invest in a brick-and-mortar bakery, so she can work for herself. By that time, she should have a strong customer base to support her efforts.
Peterson's friend just started a lip gloss business. Her advice? "If you can, do something you like. And just go for it." Also, of course, do your research, don't be afraid to ask for help for other people in the industry.
Or even help from family, who are glad to pitch in when needed. Sometimes Peterson's parents help her at events, doing things like setting up, or helping with customer service, which can get overwhelming.
She pays them in cake.