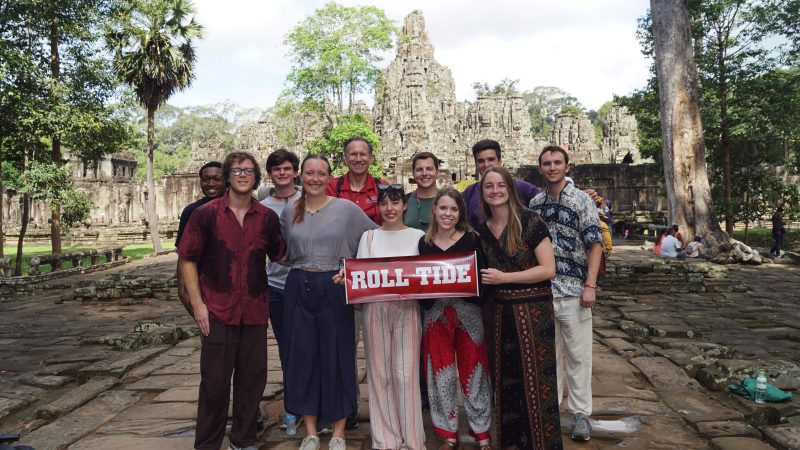 From a Viewmaster to Angkor Wat
Culverhouse instructor Harold Wright had a Viewmaster as a kid, the plastic stereoscope toy that allowed viewers to look at small, circular photo reels through a binocular-like eyepiece. One of his reels was "The Wonders of the World," and that is where he first saw a picture of the Hindu-Buddhist temple Angkor Wat in Cambodia. From that young age, he longed to see the monument in person, and he channeled that wanderlust into a successful career in international business at Johnson & Johnson. Later, he embarked on a second career as an instructor at Culverhouse, founding the STEM and CREATE Paths to the MBA, teaching, and leading students through immersive, life-changing experiences in international business. But he still had not seen Angkor Wat. Not yet.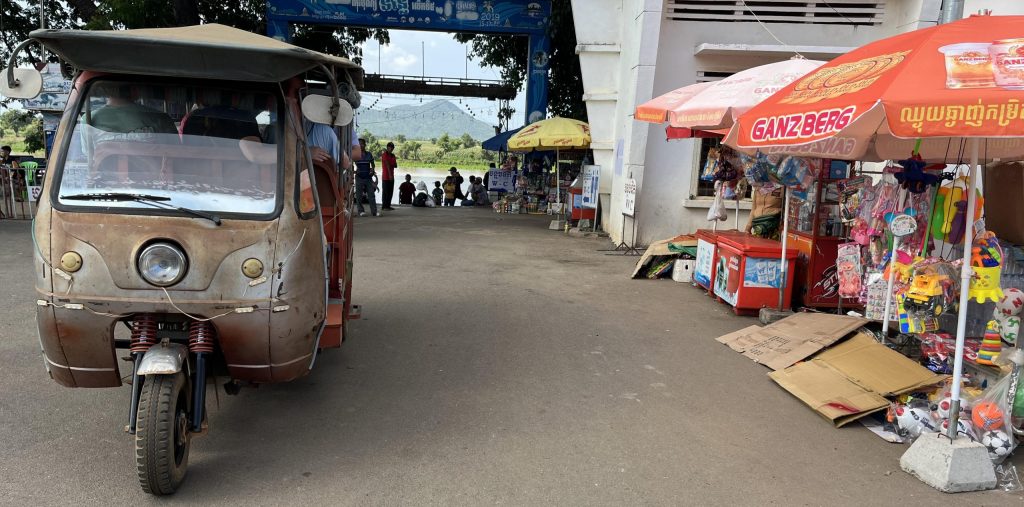 Last May, he finally took the trip to Cambodia, and he brought ten students with him. One of the students, Chase Duncan, recalled: "Our first day in Cambodia, we walked through a street market in Phnom Penh. The heat, the market vendors with their various products displayed, the locals' chatter, the smells of cooked (and raw) meats in the air — I remember all of it as we made our way through the crowds and market stalls. This moment is emblazoned in my mind not only because it was the first intense sensory experience I had in Cambodia, but also because, upon exiting, our tour guide explained that many of the people in the market were shouting in Khmer (the local language) 'COVID is over! COVID is over!'"
What a moment in time. Wright and the students discussed supply chains, since Cambodia is a growing source of supply to China. They also met with She Investments, which is an incubator and business accelerator for women. "In Cambodia," Wright explained, "that's a big deal, promoting women's employment rights."
Do you know what an ant tastes like? Wright does: "It tasted just like a little spicy something that was crunchy. It was good!" Though most of his students gagged at the idea of eating ants, Wright recounted the way the practice was defended. "It's tree ants. And people would tell me–do you eat bacon? Where do pigs sleep? These ants are in the trees. They're extremely clean insects."
They also spent three days and two nights on a riverboat, which Wright described as, "look[ing] like a houseboat built sometime in the 70's." They navigated down the Mekong river, making stops at villages and doing customer discovery work, learning about the needs and everyday lives of rural Cambodians. "The lives of these people subsisting, surviving based on the river…was very different from [the lives the students] grew up with," Wright reflected. "So it was great perspective for them. These people have needs, they have opportunities." Wright also encouraged his students to see a connection between the lives and needs of the rural Cambodian people, and the lives and needs of Black Belt Alabamians, not far from their own homes.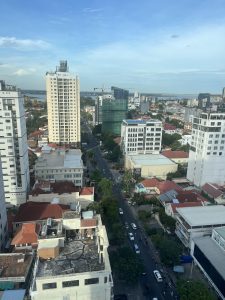 "What surprised me most," Chase Duncan observed, "was the unparalleled hospitality shown to our group. Cambodia as a nation and Cambodian citizens individually are incredibly dependent on tourism to earn income. Visiting Cambodia in the wake of the pandemic highlighted just how amazingly hospitable and kind the people are; seemingly at every point along our trip, we were met with kindness, generosity, excitement, and gratefulness. During our stint in Cambodia and across all our stops, I came to see this as a norm for the people of Cambodia, rather than a few isolated instances."
And yes, they did visit Angkor Wat, at sunrise. Wright and the students were practically alone. "Be careful throwing around, 'once in a lifetime opportunity,'" Wright laughed. "But it was everything I wanted. Adventure. Exotic. And what are we doing next year? We're going back: Thailand, Cambodia, Vietnam."