Culverhouse Names Five 2022 Austin Cup Recipients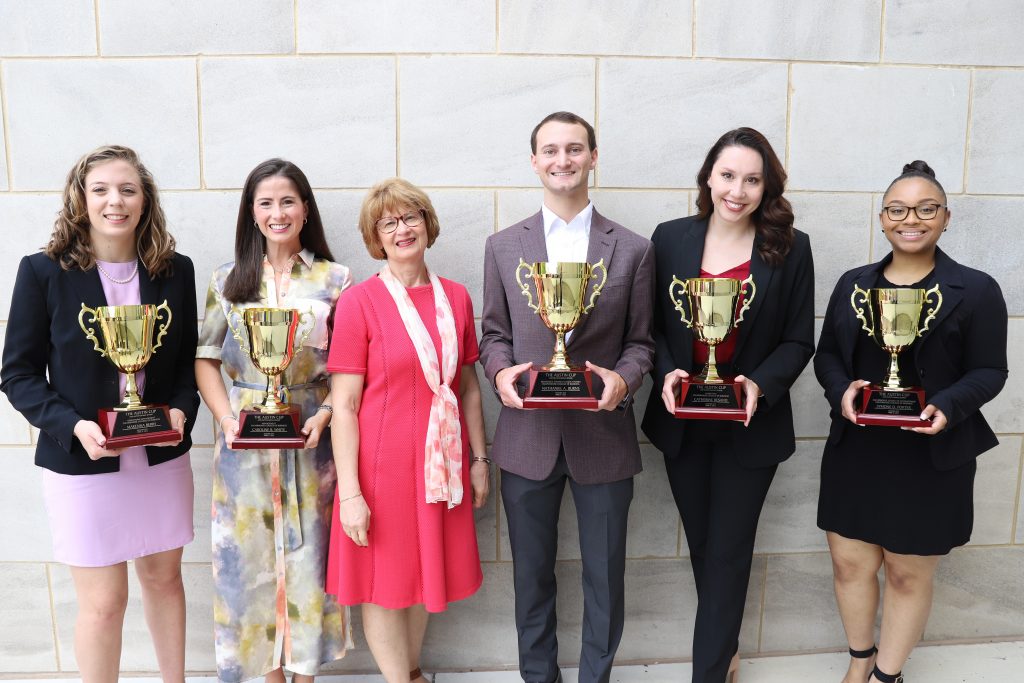 ---
The Austin Cup is the highest honor that Culverhouse College of Business students can receive.
Traditionally, Culverhouse names one Austin Cup winner from a pool of highly qualified nominees from every department. However, this year, the College awarded the Austin Cup to five standout individuals–one from each department. This year's winners are Makenna Berry (Information Systems, Statistics, and Management Science); Catherine Besand (Marketing); Nate Burns (Economics, Finance, and Legal Studies); Symone Porter (Accounting); and Caroline White (Management). Each of these students has excelled in and out of the classroom and embodied the true spirit of Culverhouse.
Read more about how these students have gone above and beyond throughout their college careers below:
Makenna Berry—Information Systems, Statistics, and Management Science
Berry will graduate this May with both her undergraduate and graduate degrees through Culverhouse's Accelerated Master's Program. She will earn her bachelor's in both operations management and economics and her Master of Science in Operations Management. Berry is a student-athlete on the UA Swimming and Diving Team and is a specialist in breaststroke events. She is also a student manager for the team. Over the past several years, Berry has:
Been an operations management intern for Recticel Interiors
Served as a team lead on a data visualization project in Dr. Chapman Greer's MGT 597 class
Worked as a data analytics student intern for the College of Continuing Studies
In addition, Berry received the Outstanding OM Teaching Assistant award in 2021. Following her graduation, Berry will pursue her Master of Arts in Smart Cities and Informatics at the Hebrew University of Jerusalem's Rothberg International School.
Catherine Besand—Marketing
Besand is also enrolled in the Accelerated Master's Program and will graduate with her bachelor's and master's degrees this May. She is studying marketing, concentrating on digital and social media. Besand has found great success both academically and in her extracurricular activities. Some highlights from her time as a Culverhouse and Manderson student include:
Serving as the head of the marketing department's student ambassador group
Being named Director of Communications for Manderson Women in Business
Winning first place at the 2021 Undergraduate Research and Creative Activity Conference after spending the academic year as a Culverhouse Faculty Scholar
She achieved all the above and more while marching with the Million Dollar Band Color Guard. Following graduation, Besand will move to New York City to fulfill her lifelong dream of working for Disney in its customer insights, data, and advertising division.
Nate Burns—Economics, Finance, and Legal Studies
Nate Burns is an Accelerated Master's student graduating with his Bachelor of Science in Commerce and Business Administration and Master of Arts in Economics this May, after just three years at the Capstone. However, graduating early has not impeded Burns from making his mark at Culverhouse, UA, and beyond. Some of Burns' most impressive achievements are:
Examining the effects of impatience on bilateral and multilateral bargaining through undergraduate research work for UA
Working with Stanford University's Hoover Institution to provide policy recommendations to Alabama's first statewide commission focused on entrepreneurship, technology, and innovation
Founding GenLynk, a 501c3 nonprofit bringing together youth and isolated senior citizens in nursing homes via telephone or video chat
Burns also served the College as a Culverhouse Ambassador and a mentor in the Randall Research Scholar's Program. Following graduation, he will attend the University of Alabama School of Law, where he received a full scholarship.
Symone Porter—Accounting
Symone Porter will complete her undergraduate accounting degree this May with a 4.07 overall GPA, meaning 65% of the grades she received as an undergraduate student was A+. Porter played a significant role in forming the Accounting Student Organization in 2021 and has consistently worked over 55 hours/week to fund her education. Porter's strong work ethic and devotion to service are evident in her experiences as:
A Staff Sergeant (E-5) in the United States Air Force Reserves
A civil engineer (HVAC/R) technician for the United States Air Force
An audit intern for KPMG LLP, a Big Four accounting firm
In addition, Porter has served as an officer for Beta Alpha Psi, which connects upper-division accounting majors with industry professionals. Porter has been accepted to the Manderson Master's in Accounting program and will begin the coursework for her graduate degree this fall.
Caroline White—Management
Caroline White will graduate Summa Cum Laude this May with her bachelor's degree in management in the human resources specialization. Throughout her time at UA, White has had heavy involvement in the Society for Human Resource Management, serving as the organization's secretary in 2019 and its president from 2020 to 2022. Under White's leadership, SHRM has:
Increased size of membership by 300%
Developed a partnership with PepsiCo to create a platform centered around diversity, equity, and inclusion efforts
Engaged in several philanthropic initiatives, raising over $2,000 for the Tuscaloosa Foster Care System in partnership with the African Student Association and over $600 for the Salvation Army.
White has accepted a job with Crowe as an organizational change management project coordinator in Nashville.