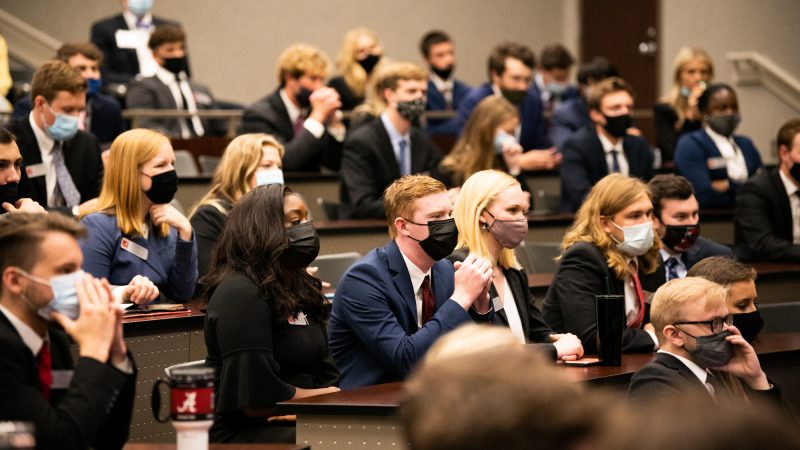 Speaker's Edge Welcomes Incoming MBA Cohort
By Stephanie Cohen

Culverhouse's Manderson Graduate School of Business welcomed 157 MBA students during its week-long orientation, MBA Launch, in preparation for the Fall 2021 semester. These students were composed of traditional MBA students, along with those on the STEM/Create Paths to the MBA. MBA Launch culminated in the Speaker's Edge Competition, where the students were split into teams and assigned a complex case.
Each year, Speaker's Edge requires first-year MBA students to think quickly and critically to strategize and develop ideas, recommendations, and business solutions that they present to a panel of judges. At this year's Launch, there were more than 75 judges representing 43 companies in attendance.
Four teams proceeded to the final round. The judges for the final round were Kathi Riddle, VP finance at Disney; Culverhouse Dean Kay Palan; Robby Knight, co-founder and CEO of Soda Health; Rashmee Sharif, change/project manager of Cigna; and Bryan Finison, owner of Tree House Farm and Nursery.
Krymson Hammond, Gehrig Batson, Johnathon Wolf, and Jen Pride made up the winning team. Additionally, individual winners were named both in the preliminary and final rounds. These winners were:
Preliminary      
Best Q&A–Jenn Pride
Best Presenter–Samantha Reidy
Final
Best Q&A–Lauren Pan
Best Presenter–Royce Dickerson
This year's networking format allowed students to interact with alumni and corporate partners who participated as judges in a more meaningful way. Students circulated three networking rooms and engaged with these individuals with more intentional conversation.
"The students were well prepared and sharp," said one of the judges in a post-event survey. "…I really enjoyed meeting my fellow judges." Each year, Manderson recruits notable judges who have exemplified success in their respective fields to heighten the caliber of this student experience.
Manderson's MBA program allows students to choose among seven focused areas of study and consistently ranks as one of the top MBA programs in the country.
Keep up with the Manderson MBA program here or via Manderson social media.