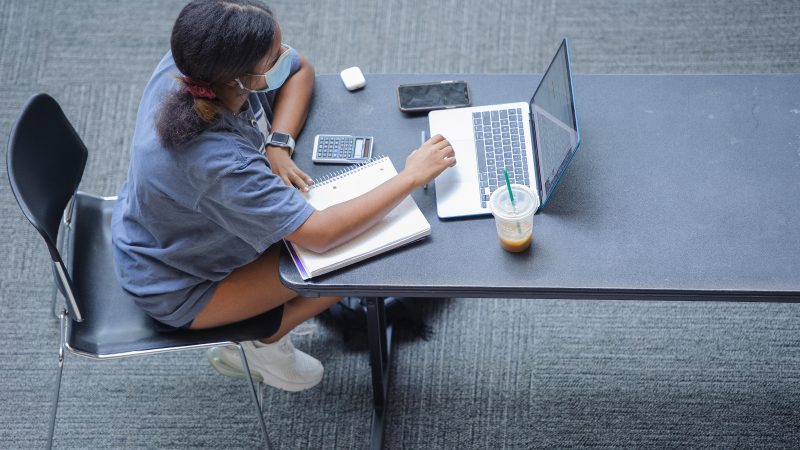 UA Business LEAD Sets Students Up for Success
By Julia Service
Implemented by Culverhouse at the start of the fall 2020 semester, UA Business LEAD is a professional development program that prepares students for the workforce. The 10 core competencies that drive LEAD forward are directly related to the career competencies identified by the National Association of Colleges and Employers, according to Keely Latopolski, director of professional development and engagement at the College. Those competencies include: teamwork and collaboration, critical thinking, problem solving, and ethics, and global and cultural engagement.
"LEAD helps students be day one ready when they enter their job or internship. We want students to be learning on the job, but also be adding value to the company or organization that they're joining [. . .] and be able to articulate the soft skill development that they've learned in Culverhouse and then worked on co-curricularly," Latopolski said.
Students keep track of their activities in the Suitable app, earning points for attending career and professional development workshops, capstone experiences, and speaker series, as well as outside events that can earn LEAD point eligibility. The Suitable app also works as an e-portfolio for students to share work they've completed. Because Suitable supports any file type, students are able to upload PowerPoints from group projects or internship related files, Latopolski explained. This gives students the opportunity to share work that might not be reflected on a resume.
"They can even upload a video file, so we've had students upload an elevator pitch to that e-portfolio [and] link that to their email signature line or to their LinkedIn profile to give employers an additional snapshot about who they are," Latopolski said.
Lara Ellen Locke, assistant director of professional development and engagement for the College, already sees the program growing and evolving. Since this year only included freshmen and transfer students, next year will bring in a new class of LEAD students while current LEAD students progress onward in their academic careers. A new internship system is also in the works.
"We're developing a process for students to earn LEAD points for their internships. This will help us see where our students are getting opportunities and what kind of opportunities they are getting," Locke said. "In turn that will allow us to also partner with some new corporate partners that we've never had before."
Ryan Traywick, a junior transfer student, is motivated to be involved in LEAD by his desire to secure a job after college. During career week, Traywick attended different LEAD events and workshops. This was a good way to get his name out there for internships, he said, along with opportunities for resume building.
Another aspect of LEAD that Traywick found very helpful was the business case he worked on for his GBA 246 class, which is one of the required professional development courses. Students were given two options for a company to choose, and Traywick said this case helped develop problem-solving skills.
"We were supposed to tell if they should outsource or insource and then provide our own information to say why we think we should choose one way. There wasn't a correct answer, but you had to go in there and do your own type of research and be able to formulate your own opinion and solve the issues," Traywick said.
For first-year Culverhouse student Leelee Shaw, the points system in the Suitable app drives her to get more involved in LEAD since she enjoys setting goals for herself.
"I'm kind of a competitive person," Shaw said. "Maybe like twice a week I'll sit down on the suitable app and see 'what can I do this week?' The week before I came back home for the break I sat down and saw five or six things and I just knocked them out."
LEAD has been a great resource for Shaw's first year at the Capstone. Along with learning proper email etiquette for a professor or a boss, she's been able to hear from recruiters and employers about what they're looking for in prospective employees.
"My experience with LEAD has been absolutely terrific. I had no idea Culverhouse had a program like LEAD when I chose Alabama, but it certainly has exceeded my expectations immensely," Shaw said.