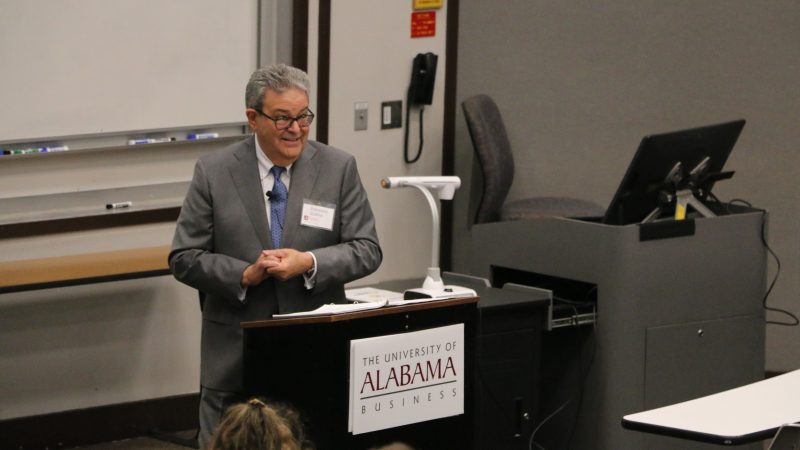 Celebrating National Latinx-Hispanic Heritage Month: Spotlight on Alum Francisco Codina
Interview conducted by Julia Service
The Culverhouse College of Business is showcasing conversations with alumni and friends who have made transformative impacts both in business and within their communities, especially as they relate to efforts to build a more diverse, equitable, and inclusive world. This interview with one such alum was conducted in October 2020.
A Culverhouse alumnus, Francisco Codina emigrated from Cuba in 1965, moving to Tuscaloosa, where his father practiced medicine. He joined Ford Motor Co. in 1977, holding many different positions and retiring in 2007 as the group vice president of North American Marketing, Sales and Service. Upon retiring from Ford, Codina worked with Dealer Tire as an adviser and then as a partner for a total of eight years.
Before Codina became the group vice president of North American Marketing, he started with the company in an entry-level customer service position. Through this role, he was able to gain knowledge about Ford's customer base and dealers, the two key components of the company.
In his 30 years with Ford, Codina also worked as the marketing manager in Mexico and the president of Ford Argentina. But according to Codina, marketing the U.S. automaker in Latin America wasn't as difficult as one would imagine. He said it was more about shaping the brand than establishing it.
"I think the challenge for someone parachuting an organization outside of your own [country] is to understand the culture and then expand on that," Codina said.
In Mexico, one of the marketing campaigns that Codina worked on was for the Ford Fiesta, which had moved from being manufactured in Europe to Mexico. After decorating the outside of their office for a fiesta, their attorney told them the next day that the decorations must come down since it was illegal to do that in front of a national monument, as their office was directly across from the Angel of Independence.
"We were going to be fined no matter what, so I asked 'how much was the fine?' And it was like 20,000 pesos, which is about $2,000 a day, and we planned to have it for a week. That was the cheapest advertising we could ever get: we were in front of every newspaper, in front of all the TVs because we got fined, but also because it was a clever idea," Codina said with a laugh.
One of the things that attracted him most at Ford was the company's commitment to diversity, where the hiring and promotion of minorities is done consciously. To Codina, diversity in the workplace adds value to the company. It also gives insight to people who come from different cultures and backgrounds.
When you have a broad set of diversity in your upper management and your diversity team, you tend to have a better decision-making process.
"When it came to advertising, I can't tell you how many times I would ask, 'what does that mean to you, because it means something different to me,'" Codina said. "If you want to be inclusive you cannot use those words . . . because it's going to lose the meaning for a lot of people in this country."
In order to achieve inclusivity, Codina advised that companies have to make seeking out talented minorities a part of their strategy, and they have to want to do it. Additionally, diversity has to be represented at the highest level of business, not just the lowest.
"I think you find that when you have a broad set of diversity in your upper management and your management team, you tend to have a better decision-making process. And a happier workforce. Because it's just more understanding of what turns people on, what turns people off and what motivates people," Codina said.
Now that he's officially retired from working, Codina continues to give back through organizations that promote education, specifically the national scholarship program Distinguished Young Women. He also served as chairman of Culverhouse Board of Visitors. Being involved with the Board of Visitors was a way, as Codina said, to give back to the school that gave him the foundation to succeed in his career.
"For me it's always been about education. I will always contend that education is the real differentiator in terms of how you move up in society," Codina said.
"It gives you a better chance."