This past week on April 13-14, University of Alabama students, faculty, and staff participated in the annual Edward K. Aldag Jr.  Business Pitch Competition.
Up for grabs was a $50,000 top prize for the best business plan plus in-kind assistance from area entrepreneurs and business experts.
New for this year was a series of special awards made possible by the Alabama Power Foundation. The Alabama Power Foundation Innovative Technology Awards for students offered three cash prizes totaling $10,000 for the most groundbreaking technology-focused ideas.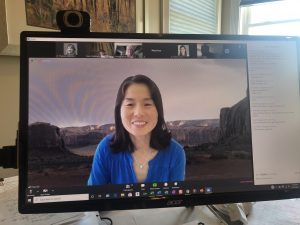 Due to the coronavirus pandemic, the competition was forced to pivot quickly to an online format using Zoom –– the competition was previously slated to take place over the course of one day at the Bryant Conference Center on The University of Alabama campus.
Over the course of two rounds held over two days, seven facilitators and 27 judges came together to find the best business plan among the dozens submitted. 21 teams came away winners, with PrepHQ taking home the $50,000 grand prize.
See the complete list of winners here.
Winners will receive generous in-kind support from the Alabama Entrepreneurship Institute and The EDGE Incubator and Accelerator.
Dr. Theresa Welbourne, Will and Maggie Brooke Professor in Entrepreneurship and Executive Director of the Alabama Entrepreneurship Institute, was responsible for planning the competition and oversaw the efforts to move it into a virtual format.
In a brief interview, she remarked on the adaptability and resilience of all participants.
How do you feel the competition adapted to this new virtual model?
I couldn't have been happier with the enthusiastic responses from students, judges, faculty, staff and the facilitators. Everyone did their best, and the program was a success. Yes, we had a few 'bumps,' but no major or really even minor problems.
What training took place to prepare students, judges, and moderators prior to the start of the competition?
They dug in and read a lot of emails, instructions and made it work.  There really was no training; they self taught.
Do you feel the competitors adapted smoothly and overcame obstacles that they normally would not have had the competition been held in its normal capacity?
Our students are very innovative and entrepreneurial as are the faculty, staff, alumni and business connections we work with on this competition. Our team at the Alabama Entrepreneurship Institute, including student workers, and the team at EDGE Labs all cooperated and helped provide assistance to anyone who needed it.

We went from live to virtual in four weeks; I'm very proud of the work everyone did.
The competition was sponsored by Medical Properties Trust, Regions, The SBDC of Alabama, The City of Tuscaloosa, Culverhouse College of Business, and The Chamber of Commerce of West Alabama.