Leadership, "Leaning-in" Focus of Women's Leadership Summit
On February 14, 2020, Culverhouse College of Business hosted its first Women's Leadership Summit at the Bryant Conference Center. The inaugural conference brought experienced and emerging leaders together to have open, honest conversations about building and sustaining a career as a professional woman. Attendees learned about salary negotiation, generational diversity, strategic decision-making, and how to be a prominent leader in the workforce.
"An incredible group of women are ready to share their experiences and insights today," Keely Latopolski, the director of diversity and inclusion initiatives at Culverhouse, said at the conference opening. "The objective is for everyone to connect and build their network and to share this experience with others moving forward."
The day's first session focused on generational diversity and working with people across generations. Michele Coley, the only African American female Allstate Agent in the state of Alabama, said "knowing what generations you work with helps promote understanding and which way is the best way to communicate."
Kathi Riddle, vice president of finance at Walt Disney Parks, Experience, Consumer Products was next to speak. She provided an overview of her role wherein she is responsible for day-to-day, long-term strategic financial planning and analysis for Walt Disney World operations. During her talk, listeners learned about strategic decision-making and intern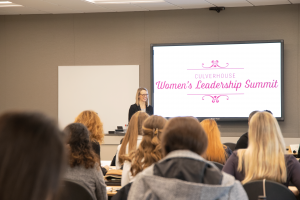 ational business. She also offered her key piece of professional advice: "Do what you love."
Session three, led by Daphne Palmer, a Culverhouse accounting instructor, focused on social responsibility, mentoring, and giving back.
The fourth session introduced the method of salary negotiations with Amy Bramlett and Paige Miller, two career consultants from The University of Alabama.
Culverhouse Dean Kay Palan moderated a Culverhouse Leaders Panel between sessions two and three. The panel answered questions on what makes a good leader, how to prosper as a female leader, and what challenges the panel might have had to overcome to be successful. The four panelists included Karen Miller, Instructor of Accounting; Joanne Hale, Associate Dean for Faculty and Operations; Marilyn Whitman, HealthSouth Endowed Chair in Health Care Management; and Diana Gomez, Instructor of Marketing.
When asked what makes a great leader, Dr. Hale said, "I would say that the most important trait of any leader is to understand the power of yes and no, and knowing that saying yes and committing to one priority is saying no to another…. You cannot be everything to everybody and that is something that I learned throughout my career."