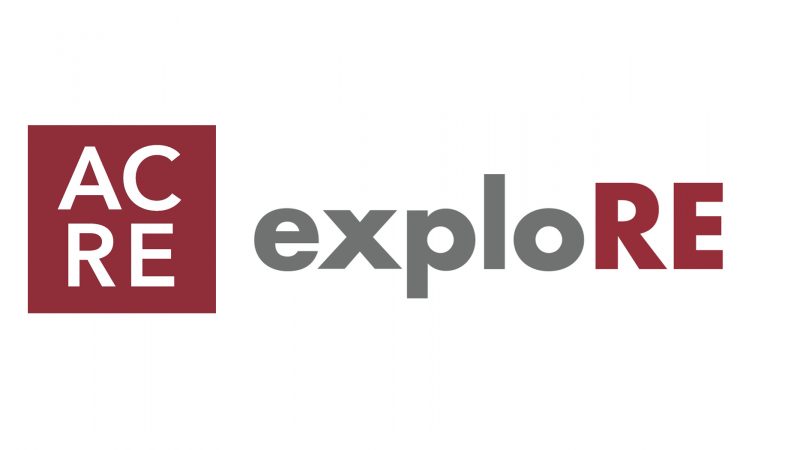 ACRE Unveils New "exploRE" Multimedia Platform
The Alabama Center for Real Estate (ACRE) today announced its newly designed multimedia platform at exploreacre.com. The completely revamped website features improved functionality and enriched content areas to provide robust information on statewide and national real estate trends and insights. ACRE is an outreach and research center located within the Culverhouse College of Business at The University of Alabama.
"We are thrilled to debut exploRE to the real estate industry," said ACRE Executive Director Grayson Glaze. "This redesign exemplifies ACRE's commitment to providing high quality, relevant and valuable products and services to our stakeholders in an efficient and effective manner."
Created with the user experience in mind, the site includes many new features:
Podcasts with ACRE staff and industry experts discussing the latest in data, technology, marketing, legal issues and more.
"Wednesday Insights" (WIN), a weekly feature with fresh commentary from ACRE Director of Research and Corporate Engagement KC Conway and links to topical articles around the web.
Comments section to encourage our readers to interact with ACRE and each other to create relationships and continue the conversation.
"Developing this new platform and identity has been a wonderful process," said ACRE Director of Education, Marketing and Communications Cherie Moman. "Our aim was to provide an engaging and informative experience for our visitors while establishing flexibility for future growth.  With this redesign, we anticipate increased traffic and content consumption."
Visitors are encouraged to exploRE the new website and sign up for direct emails here.
About ACRE
The Alabama Center for Real Estate is housed within the University of Alabama's Culverhouse College of Business. The heart of ACRE is advancing relationships by providing servant leadership with a passionate, adaptable and humble spirit. ACRE is organized to provide relevant resources in the areas of research, education and outreach that enhance Alabama's real estate industry. It was established in 1996.
If you would like more information about ACRE, please contact Cherie Moman at 205.348.3324 or email at cmoman@culverhouse.ua.edu.