Cochran Wins INFORMS President's Award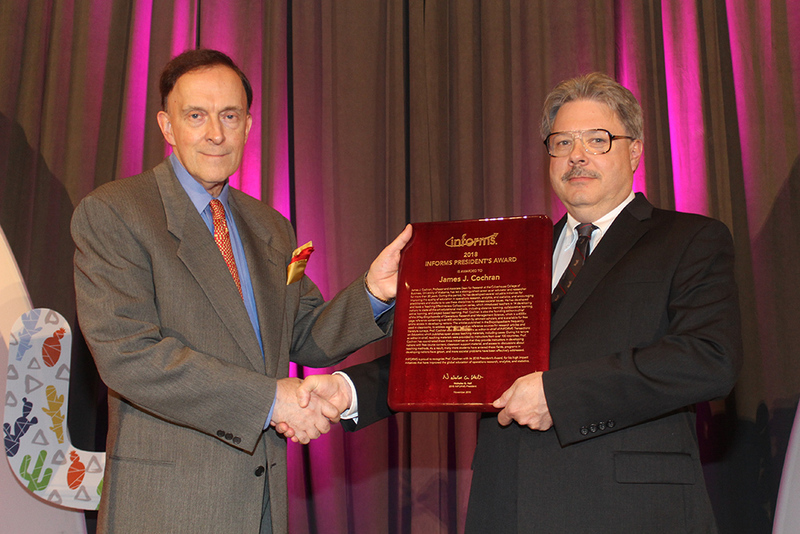 Dr. Jim Cochran, the Culverhouse Associate Dean for Research, was recognized by the Institute for Operations Research & the Management Sciences (INFORMS) with its President's Award, which goes to those who make "important contributions to the welfare of society" on a "local, national, or global level." The award was given to him at the organization's recent annual meeting.
According to INFORMS, the reasons why Dr. Cochran was bestowed with this honor are manifold:
He has developed several valuable initiatives for improving the quality of education in operations research, analytics, and statistics, and encouraging practitioners and students to use these disciplines to address societal issues […] He has developed and leads a Teaching Effectiveness Colloquium series, which introduced teachers in 14 developing nations to state-of-the-art educational methods, including distance learning, collaborative learning, active learning, and project based learning.
When asked about what this award meant to him, he had this to say:
The prospect of being recognized in this manner never occurred to me before I was informed that I was to receive the 2018 INFORMS President's Award. The list of twenty past recipients of this award comprises an incredible array of extremely talented and generous colleagues and friends, and I am overwhelmed and humbled when I think about being added to this list. I have been very fortunate to work with great friends and colleagues at The University of Alabama and throughout the U.S. and worldwide operations research, statistics, and analytics communities. This is the critical factor in the success of the initiatives that were cited when I received the INFORMS President's Award.