IRMAS Senior Honored with Prestigious Student Award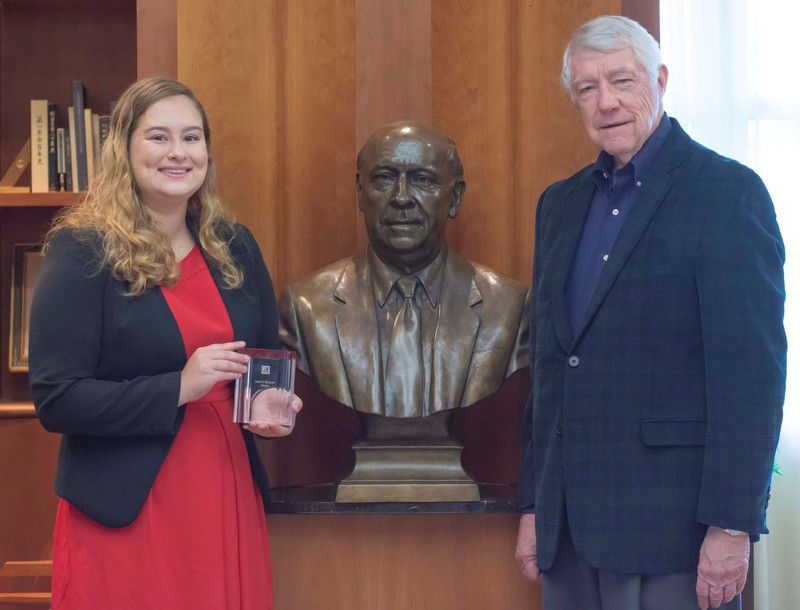 Written by Reginald Allison II │ Photo by Kaylin Bowen
Laura LePere is the recipient of the 2018 John S. Bickley Award from Culverhouse College of Business in recognition of her academic achievements and civic engagement. She was presented with the award during the economics, finance, and legal studies department's 2018 Honors Day Ceremony on Wednesday, April 4 at the Tuscaloosa River Market.
Dr. John S. Bickley, emeritus professor of insurance and founder of the International Insurance Society, was a legendary leader and well recognized for his contributions to academia and to the insurance industry. Named in his honor, the John S. Bickley Award recognizes a University of Alabama student studying in insurance, risk management and actuarial science who is an outstanding citizen of the University, especially the IRMAS Program. The award recipient is elected by the John and Mary Louise Loftis Bickley Endowed Teaching Professor of Insurance & Financial Services.
LePere, a native of Westfield, Indiana, will graduate on May 5 with an undergraduate degree in finance and specializations in insurance and actuarial science. Since freshman year, she has served on the board of directors for the Alabama Insurance Society and the Gamma Iota Sigma Epsilon Chapter. She has also held numerous officer positions within both the student organizations, including serving as President this year.
"I am extremely honored and elated to receive the John S. Bickley Award. Being part of the University of Alabama and IRMAS program these past four years has been an amazing experience. I am so thankful for my professors and peers who have been unrelenting in their support of me," said LePere.