IRMAS Student Travels to DC for NAHU Conference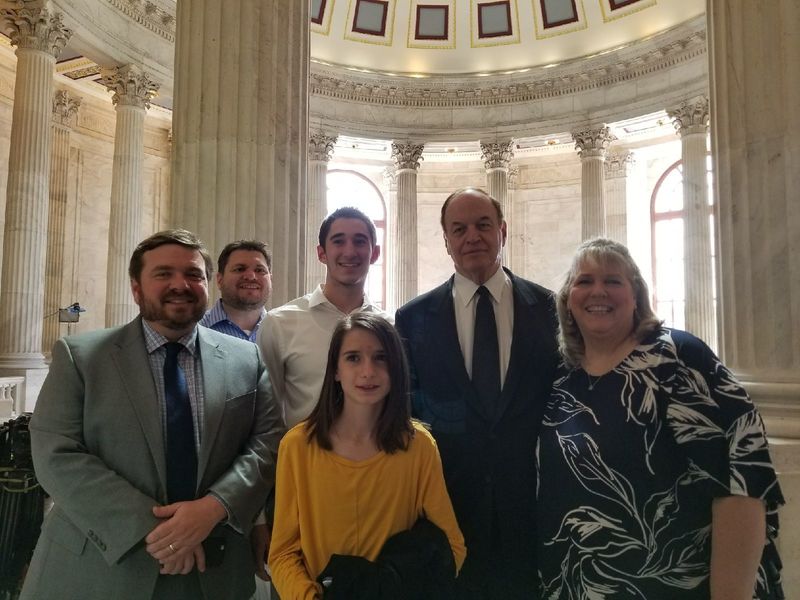 Joseph Pronti in center in white shirt enjoyed a trip to Washington D.C. to participate in the National Association of Health Underwriters (NAHU) Capitol Conference .​
Written by Breanna Pianfetti
Culverhouse has a well-respected insurance risk management academic program, providing students with an understanding of how risks are managed and financed. Students in the program are prepared to make informed decisions as responsible citizens and as professionals serving their clients and leading companies. The Insurance, Risk Management and Actuarial Science (IRMAS) program has become a premier undergraduate program at The University of Alabama and continues to prosper in its vision and effort to create dedicated industry professionals.
Joseph Pronti, a student enrolled in IRMAS was recently invited to participate at the National Association of Health Underwriters (NAHU) Capitol Conference in Washington DC. Pronti, a senior and outstanding member of the Alabama Insurance Society, was selected to spend a week in the nation's capital, touring the city and meeting with state legislators about the latest issues in healthcare reform.
"I observed all 435 members of the House of Representatives as they voted on five issues," Pronti said.
While visiting he was able to gain valuable insight about the importance of the lobbying process and how national organizations utilize their time and resources.
"All throughout the week, I got behind the scenes to see how laws were made, passed, and changed," he noted.
The highlight of his trip, Pronti said,  was meeting with Alabama state legislators, including Senator Richard Shelby – Shelby Hall's namesake – and telling him he had a class in the hall his freshman year.
Pronti recommends the trip to anyone that is interested in the insurance industry, "It is a chance to learn how laws and reform truly occur in Washington, button up a job search, and enjoy an all-expense paid trip to the nation's capital."