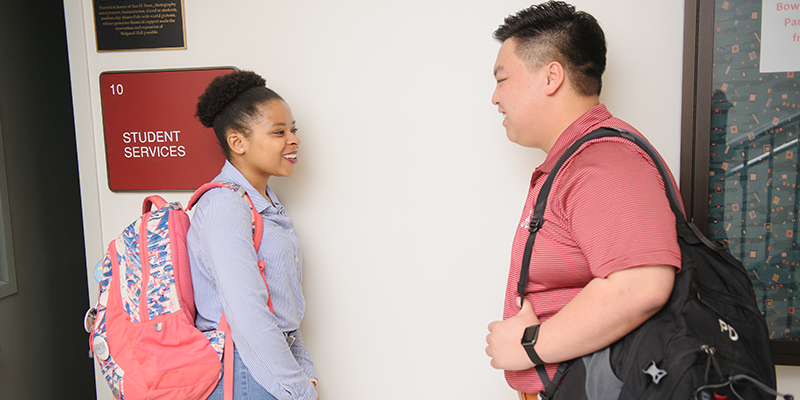 Effective advising fosters a partnership between the student and advisor; each advisor engages in an ongoing process to meet the student's individual needs.  As the student accepts overall responsibility for their education, the Culverhouse College of Business advisors commit to working with students through personal interaction and utilization of University resources to develop a plan based on their academic goals.
If you have any questions, please feel free to email the advising team at BUSINESSATBAMA@CULVERHOUSE.UA.EDU
FOR MORE INFORMATION, CONSULT THE ADVISING SYLLABUS
Culverhouse students are required to meet with an advisor each semester to be cleared for registration.  Our students are advised year-round and may schedule an appointment by:
a. BOOKING AN APPOINTMENT ONLINE * If you are unable to login to our online scheduling system or receive an error message please call 205-348-4537 to schedule an appointment.
b. Stopping by 10 Bidgood Hall
c. Calling (205) 348-4537 or (800) 828-2622
All student designations below should adhere to the following scheduling guidelines as they are ineligible for booking an appointment online:
International students
 are advised by Jeff Clark (this includes Accounting majors, but not OM/MIS majors). To schedule, please visit 10 Bidgood Hall or call
(205) 348-4537
.
Declared Management Information Majors & Operations Management majors, are advised by Heather Davis in Alston Hall 300.  To schedule, please call (205) 348-6085.
Online General Business majors are advised by email.  If you have questions about this process, please email ONLINE@CULVERHOUSE.UA.EDU
Declared Accounting majors (Juniors and Seniors) must be advised by Candace Peters in Alston Hall 310. To schedule, please stop by or call (205) 348-6131 to book your appointment. Lower Division Accounting majors are encouraged to make their appointments with Student Services.
Other Important Items for International Students
Curricular Practical Training (CPT) Forms: Only one (1) internship is allowed for 1-3 hours credit per degree in Culverhouse. You may have more than one internship, but no credit hours will be applied to your degree. ALL internship forms are handled through The Career Center at Culverhouse. You must have an offer from the company on letterhead when meeting with the Career Center.
Optional Practical Training (OPT) forms: These documents can be handled during On-Call times with Debbie Wyatt. The OPT form is located on the Capstone International Office website.
Dropping a course and receiving a W
: Failure to complete classes or taking "W's", or having to retake classes is NOT a valid reason to extend an F-1 Program of Study. If you are unable to complete your courses within the time UA has given for your program, you will have to leave the U.S. without getting a degree from UA. It is also very important to maintain a good GPA (2.0 for General Business, and 2.5 or higher for all other Culverhouse Majors) in order to avoid possible dismissal or suspension.
DO NOT DROP BELOW FULL-TIME
 – 12 hours is full-time for undergraduate students. Should you drop below full-time, you are jeopardizing your I-20 and must report to Capstone International Services immediately.
Online Courses – DO NOT TAKE MORE THAN ONE (1) online course within your 12 hours. Your I-20 will be affected and you could lose your VISA status. Any questions, see Ann Margaret Vincent.