09sep(sep 9)10:00 am11(sep 11)3:00 pmFeaturedLockheed Martin Day and Space Challenge Box Challenge at UA
Event Details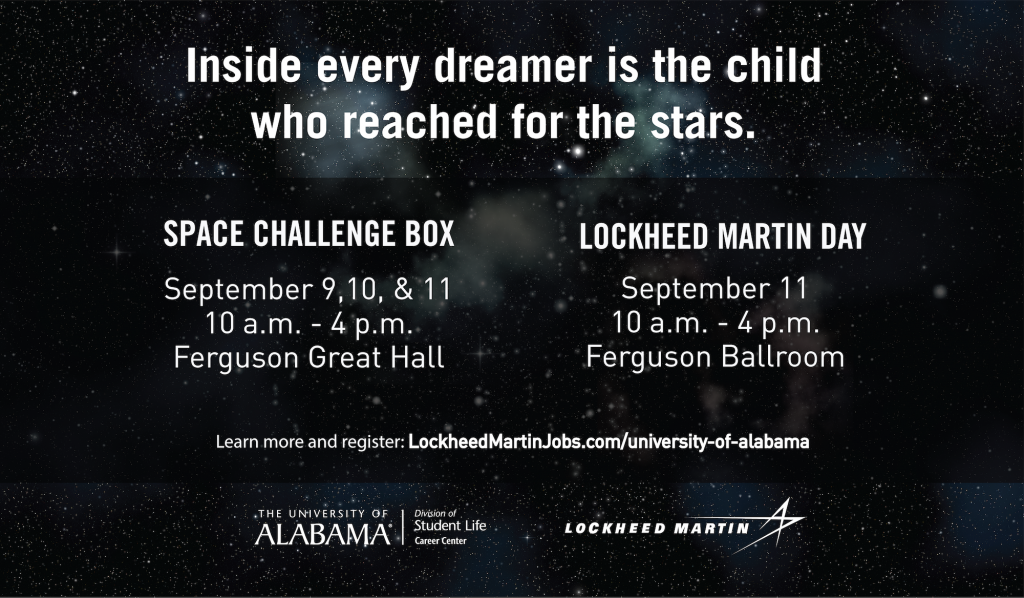 On September 9-11, the Lockheed Martin Space Challenge Box will be visiting UA, challenging students to see if they have what it takes to work for Lockheed Martin. The three-day event allows students to interact with executives, recruiters and technical demos. Hiring managers will be on site offering internships and jobs on the spot!
The Challenge Box will be in the Great Hall of the Ferguson Student Center on Sept. 9th and 10th from 10 a.m. to 5 p.m. and from 10 a.m. to 3 p.m. on Sept. 11. The Lockheed Martin Open House will be on Sept. 11 from 10 a.m. to 3 p.m. in the Ferguson Student Center Ballroom. Dress code for the Open House is casual.
RSVP Now
RSVP to the Space Box Challenge and Lockheed Martin Day here. 
Time

9 (Monday) 10:00 am - 11 (Wednesday) 3:00 pm CST
Location

Ferguson Center

751 Campus Drive