wed07apr12:00 pmwed1:00 pmEmployee Engagement & Performance Management in a Virtual WorldCreating Stability in Transition12:00 pm - 1:00 pm CST VirtualRegister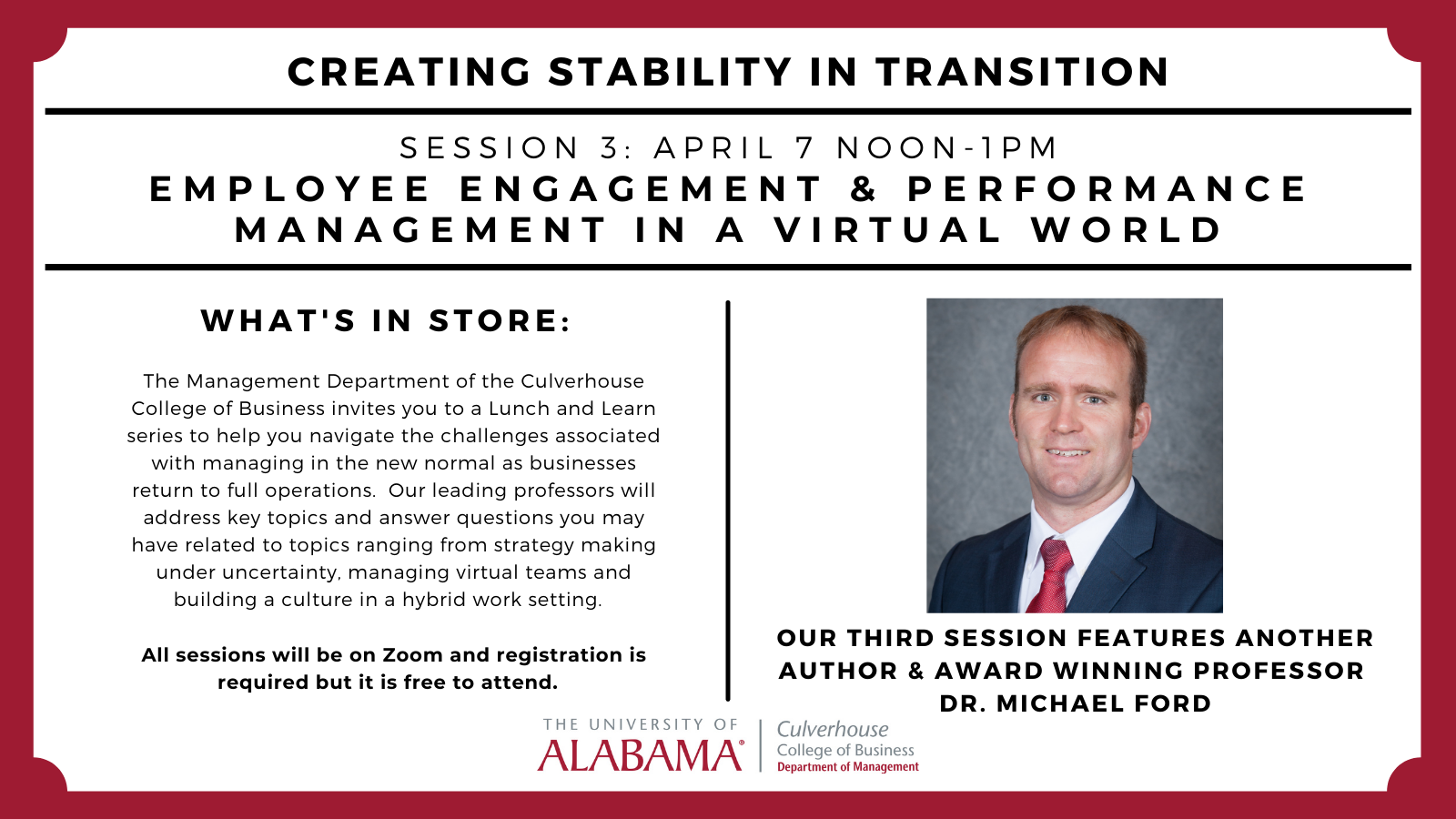 Event Details

The Management Department of the Culverhouse College of Business invites you to a Lunch and Learn series to help you navigate the challenges associated with managing in the new normal as any businesses return to full operations. Our leading professors will address key topics and answer questions you may have related to topics ranging from strategy making under uncertainty to managing virtual teams and building a culture in a hybrid work setting.

All sessions will be on Zoom and registration is required but it is free to attend.
---
Our third session features master strategist Dr. Mike Ford consulting on Employee Engagement & Performance Management in a Virtual World.
About Mike Ford
Our third session features Dr. Michael Ford, an associate professor of HUMAN Resource Management and Organizational Behavior at UA. Dr. Ford's research focuses on the employee-organization relationship and the work-nonwork interface and has appeared in over 40 journal articles and book chapters. His scholarship has received awards from the Academy of Management and the Society for IndustrialOrganizational Psychology and has been covered by a variety of major news outlets. In addition, Dr. Ford has consulted with public and private sector organizations on issues related to retention, recruitment, training, inclusion, and performance management. He currently teaches courses in HR, the Principles of Management, and Organizational Behavior. The COVID pandemic has dramatically accelerated trends toward remote or virtual work in jobs that can be performed at home or an alternative worksite. While beneficial in some respects, the lack of in-person contact can create challenges for managing performance, engaging employees, and building a committed workforce. This session will discuss some of the latest research on remote work as well as how organizations have been adapting to these changes in the work environment.
Time

(Wednesday) 12:00 pm - 1:00 pm CST
Organizer
Culverhouse Department of Managementhkirkpatrick@cuvlerhouse.ua.edu