TUSCALOOSA, Ala. – The University of Alabama's Alabama Entrepreneurship Institute hosted the 7th annual Edward K. Aldag, Jr. Student Business Plan competition on Thursday, April 13 and Friday, April 14 at The EDGE, an off-campus business incubator and shared office facility. Over 200 attendees either participated, judged, coached, or watched the presentations.
The 2023 student business plan competition involved 47 teams competing that competed on Thursday, April 13 in a virtual competition where participants answer questions posed by judges who watched the teams' pre-recorded business pitches. After the Q&A session, judges chose four teams from each room to advance to round two. On April 14, at The EDGE, competitors presented a 10-minute business pitch with 15 minutes of Q&A. The categories in which business ideas were pitched included two for best new idea, best established concept, and grand prize with 7 teams competing in each category.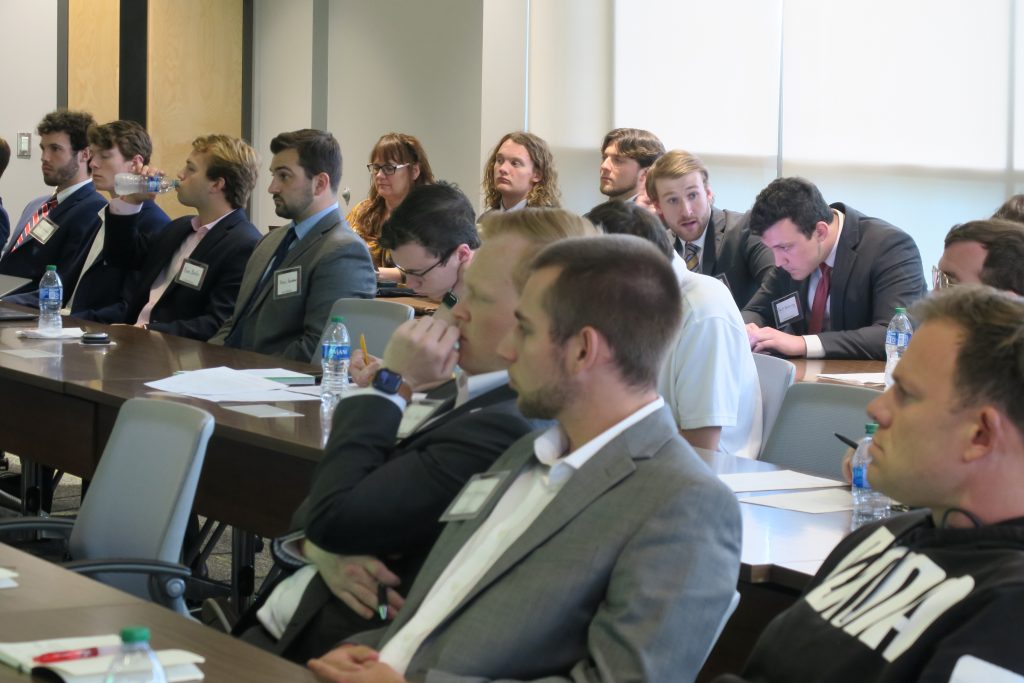 The list of prizes and all winners for the four categories can be found on the Alabama Entrepreneurship Institute website. In total, 24 different cash prizes were awarded; in addition to the category-specific prizes, the following additional awards were available to all teams.
Alabama Power Foundation Innovative Technology Awards: $5,000, $3,000, and $2,000
This award is made possible by the Alabama Power Foundation for the most groundbreaking technology-focused idea.
Best NASA Patent Awards: $2,500, $1,500, and $1,000
This award is for team that is recommended as the best business idea derived from a NASA patent.
New in 2023, Patient Safety Technology Award: $5,000
The Patient Safety Tech Award of $5,000, sponsored by Pittsburgh Regional Health Initiative, challenges students to develop ideas for a technology-enabled solution to address a leading patient safety problem anywhere along the continuum of care with a focus on one or more of the following five problem categories: medications, procedural/surgical, patient care, infections, and diagnostic safety.
Four additional $500 awards were available for: Best Teamwork; Best New Idea; Crowd Favorite, and Social Entrepreneurship.
Grand Prize Category Awards:
The teams considered most advanced competed in the grand prize category or room. The winners are:
$50,000 Grand Prize: ecobrew
Ecobrew is a company whose goal is to engineer, design, and install systems that help breweries save money and increase sustainability through their own CO2 recycling system. The CEO and founder of the company is Brian Henderson.
$5,000 First Place Prize: Crimson Charge
Crimson Charge helps patrons of restaurants, sports events, and more charge their phones while on the go. Using portable batteries, customers can be mobile while charging their devices, picking them up in one location and dropping them off in another. The CEO and founder of Crimson Charge is Jameson Jonseof. His business partners are Jack Denning and Harry McLawhorn.
$3,000 Second Place Prize: Hometown Heroes
Hometown Heroes, run by CEO and founder Micah Howell and his business partner Brett McPeters, is a sports agency that helps college athletes with name, image, and likeness (NIL) opportunities. They represent athletes and partner with collectives.
$2,000 Third Place Prize: JetStream Social
JetStream Social is a new platform to help businesses improve audience engagement in social media. The event manager product suite is focused on providing a multiplicative impact on social media marketing at events. Its founder, Jet Thevenot, is the CEO of the business.
According to Dr. Welbourne, "We are very honored to have so much help from our community members who volunteer to coach and judge the competition. Every year the competition gets better, with more people helping, and teams advancing faster. Thanks to the generosity and vision of Edward K. Aldag, Jr., we are seeing this competition become a key part of the entrepreneur students' experience at UA."
Students who compete are also eligible to be part of AEI's summer pre-accelerator program called the Crimson Entrepreneurship Academy. Through donations from Medical Properties Trust
and PNC Bank, each student receives a stipend to allow them to work on their businesses full time during the summer while engaging with faculty, coaches, and each other through a customized educational program.
---
About the Culverhouse College of Business
The Culverhouse College of Business at The University of Alabama is home to over 9,600 undergraduate and graduate students, 10 research and outreach centers, and a variety of academic programs including a top-ten best online master's program in the country, according to U.S. News & World Report. Over 60,000 alumni have graduated from the College, which was formally established in 1919 and continuously accredited by The Association to Advance Collegiate Schools of Business (AACSB) since 1929.
About the Alabama Entrepreneurship Institute
A research and outreach center housed within The University of Alabama's Culverhouse College of Business, the Alabama Entrepreneurship Institute, or AEI, focuses on identifying and empowering nascent entrepreneurs and supporting existing businesses throughout the state. AEI is located in a 26,000 square-foot off-campus work and collaboration center called The EDGE, which is also home to dozens of startups and growth-focused firms.
CONTACT
Theresa M. Welbourne, PhD
Executive Director of the Alabama Entrepreneurship Institute
Will and Maggie Brooke Professor in Entrepreneurship
twelbourne@culverhouse.ua.edu
+1 (205) 348-8926