The Minerva Young Women in Business Summer Program, a June weeklong camp for high school seniors, is in its first year, and is one of three summer programs for high school students offered by the College. Minerva and the Diversity in Business Bridge Program, which targets students from underserved populations across the state, are organized by Culverhouse's Office of Diversity, Equity, and Inclusion.
"We had professionals come in," recounted Cherie Moman, the Coordinator of Summer Programs for Culverhouse's Office of Diversity, Equity, and Inclusion. "These were very candid, courageous conversations. The women coming in to speak to these young ladies were being really open with their personal life experiences, in a way that you don't traditionally see in panels. That was really phenomenal to watch."
Minerva seeks to introduce young women to business both as a major and a career path, focusing especially on business areas where women are underrepresented. Campers room in a UA residential hall with counselors, who are current Culverhouse students. The week consists of an ambitious agenda of talks and panels from professional businesswomen, visits to companies like Shipt and Regions, and professionalization activities like a LinkedIn profile workshop and etiquette dinner. Campers also took part in intensive personal exploration activities like SWOT analyses and SMART goal setting, a service day at the West Alabama Food Bank, and plenty of activities to build community, like a stroll on the Riverwalk and a snow cone social. And the community-building seems to be working: some of the campers plan to room together, and some approached Moman about a keep-in-touch meetup in the fall.

One of the students, Veeta Pratcher, reflected, "Overall, I learned that The University of Alabama is a place for all. And as a Black woman that's really important to me." Brinkley Cottingham, a counselor, said, "I learned that at Culverhouse, there are so many diverse majors and opportunities open to students coming in. The Minerva Camp illustrated all the different opportunities that Culverhouse has to offer for students with diverse interests and talents and what being a woman in these industries looks like on a day-to-day basis."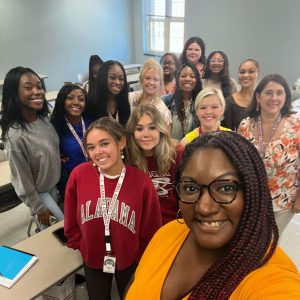 This summer there were ten campers from three states, a good start. Next summer? Moman would like to have 25, from all over the country. And eventually, Moman could see a competitive application process. "I believe Minerva will be quickly recognized as a summer program for young women with the unparalleled opportunity to learn about career opportunities in business; develop leadership and communication skills; build connections with like-minded peers, faculty and professionals in business; and experience campus life," Moman said.
The current cost of the camp is $850. However, several of the participants had their fees covered by donors including Harvey Snider, Sherrie LeMier, Pi Beta Phi, Read Bama Read (Dana Duckworth), and from proceeds from the Culverhouse DEI's Women's Conference and Recognition Dinner from earlier in the year.
Moman would welcome sponsorship of the camp to help make it possible to admit young women without the financial means to pay out-of-pocket. For more information, or to get involved, visit the Culverhouse Office of Diversity, Equity, and Inclusion website.