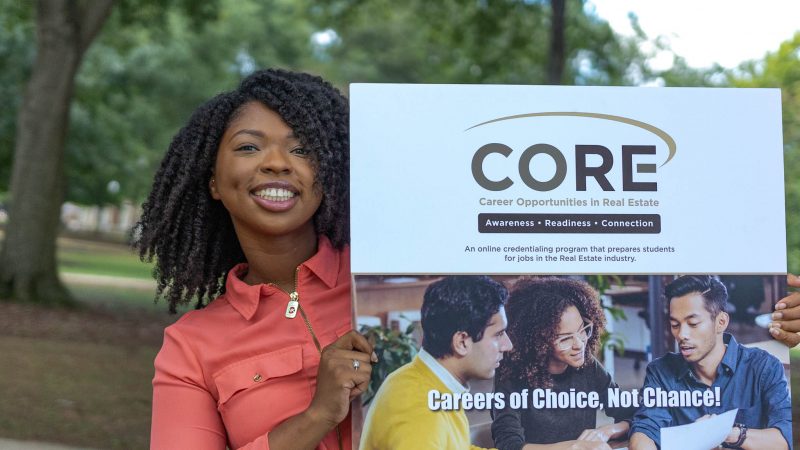 Improving Diversity, Equity, and Inclusion in Real Estate Focus of Newly-Launched Initiative at University of Alabama
TUSCALOOSA, Ala. – A new effort launched by a University of Alabama real estate research, education and outreach center seeks to improve diversity, equity, and inclusion within the industry.
The Career Opportunities in Real Estate (CORE) initiative by UA's Alabama Center for Real Estate aims to empower students and young professionals in underrepresented groups to make the real estate industry more accessible to them. It does this via an online credentialing program consisting of eight modules featuring live and self-paced real estate career content, as well as professional development resources, soft skills training, and access to life coaching.
The program is already up and running: 81 students from 37 different schools, including seven Historically Black Colleges and Universities (HBCUs), are enrolled in the initial pilot cohort.
Enrollment into the program is free for accepted students. This is made possible by the contributions of five Founding Partners: Commercial Real Estate Women (CREW) Network, the Institute of Real Estate Management Foundation, the National Multifamily Housing Council, the Alabama Power Foundation, and Graham & Company. These founding partners, along with others to be announced later, bring the CORE vision to life through their commitment to fund scholarships for qualified applicants, as well as educational content and mentoring.
"It has been a life-long mission to help elevate young people and maximize their potential in the field of real estate," said Grayson M. Glaze, Executive Director, Alabama Center for Real Estate (ACRE), The University of Alabama. "The Center deeply appreciates our Founding Partners for its industry leadership. Together as an amazing team, we are laser-focused on launching this industry-wide, game-changing workforce initiative to bring awareness and job opportunities to the next generation of real estate professionals."
The CORE program fills a defined gap within the real estate industry. Dr. James King, the Associate Dean for Diversity, Equity and Inclusion at the Culverhouse College of Business and a professor of management, said, "We know the need is great, as is the opportunity, and CORE and efforts like it present a momentous and historic effort to diversify the real estate industry."
"The plan, determination, and team are strong and excited about the journey."
The next three CORE cohorts will start on Feb. 7, June 6, and Sept. 26. Applications are open now. There will be a minimum of three cohorts per year.
Sponsors of the CORE program articulated their support for its mission.
Zeke Smith, Executive Vice President of Alabama Power, said, "Guided by its mission to elevate Alabama, the Alabama Power Foundation is committed to bridging the gaps of inequity and creating a better Alabama for all. That's why the foundation supports the Alabama Center for Real Estate's CORE program in its effort to make diversity in real estate a reality."
"CREW Network, as directed by our strategic plan, is proud to take a leadership role in this initiative as both a founding partner and program contributor," said Tiffany English, Senior Director, Architecture with Qualcomm, and 2021 CREW Network President.
"In addition to our financial commitment, we will be taking action by lending our time, talent, and expertise to create a more diverse talent pipeline into the industry. This is a groundbreaking partnership and alignment that will greatly impact the industry and workforce of the future—and CREW is committed to being at the forefront."
ACRE has also partnered with Debbie Phillips, Ph.D. to bring her expertise in real estate career exploration to the program curriculum and the educational technology, LifeRamp to package the curriculum, which includes self-guiding coaching, skills development, and real estate content, into one, user-friendly platform.
To learn more about CORE and apply to the program, visit the website here.
CONTACT:
Grayson Glaze
Alabama Center for Real Estate
gglaze@culverhouse.ua.edu
205.348.7714