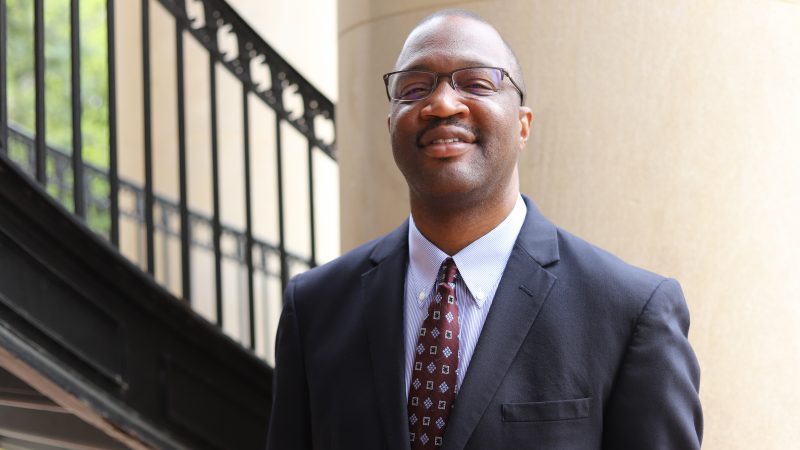 Marcus Cotton to Lead DEI Efforts at Culverhouse
The Culverhouse College of Business at The University of Alabama is proud to announce that Marcus Cotton has joined the College as its Director of Diversity, Equity, and Inclusion Initiatives and the Director of the Diversity in Business Bridge Program.
As the first person to hold those roles in the College, he will be responsible for leading a number of critical efforts designed to foster and sustain an inclusive environment.
The Diversity in Business Bridge Program, made possible thanks to Protective Life Corporation's generous gift, will help business career-interested high school students from historically marginalized and underrepresented groups gain academic, social, and leadership skills necessary for college and professional success. Mr. Cotton will lead the program's student recruitment and retention efforts. He will also develop and lead diversity, equity, and inclusivity initiatives and programs across Culverhouse.
"There are so many ways we as an institution can support those students who are from underrepresented populations and highlight voices from diverse backgrounds," said Mr. Cotton. "I look forward to getting to work."
Mr. Cotton earned his B.S. and M.S. degrees from the College of Human Environmental Sciences at The University of Alabama. He began working for The University of Alabama in 2005. During his tenure at UA, Mr. Cotton served as the Florida Regional Recruiter for The University of Alabama's Office of Undergraduate Admissions and Scholarships and was responsible for student recruitment in Central Florida and parts of South Florida. From 2009-2011, he worked for the UA College of Continuing Studies as the Coordinator of Program Management and Marketing.
Dr. James King Jr., Culverhouse's Associate Dean for Diversity, Equity, and Inclusion, said of Mr. Cotton, "Marcus is a tireless worker with an incredible set of skills and the right background that will help us accelerate the growth of critically-important initiatives like the Diversity in Business Bridge Program. I am excited to have him on the team."
Mr. Cotton served as the Assistant Director of Admissions for the University of Alabama School of Law from 2011-2021. He was responsible for the recruitment of students for the J.D., LL.M. and J.S.D. programs.
Mr. Cotton is active on campus and in the community. He is the Director of Student Services at Christian Community Church in Tuscaloosa. He is the advisor for the UA Future Black Law Students Association. He is a Co-Founder and the former Director of the UA Black Faculty Staff Association (BFSA) Scholars Program. He also served as the BFSA Vice President from 2012-2016 and the BFSA Chair of the Campus and Community Outreach Committee from 2016–2020.
Contact Mr. Cotton at mcotton@culverhouse.ua.edu.