What happens when you have two cases, 19 teams, and 36 hours? Manderson Case Team rises to the occasion and brings home hardware to Tuscaloosa.
Housed within the Culverhouse College of Business at The University of Alabama, Manderson Case Team is a home of innovation for graduate business students. 
On February 7th-9th, Matt Leatherwood of Montgomery, AL, Margaret Mason of Columbus, GA, Mary Margaret Monistere of New Orleans, LA, and Christopher Robinson of Chelsea, AL travelled to The University of South Carolina to compete in the Big Data Healthcare Analytics Case Competition.
1.01 million lines of patient data, 311 chemicals, and 79 symptoms may sound like mere metrics, but to four students these numbers were the pathway to third place. 
On Friday evening, judges gave nineteen teams from across the country their inspirational prompt — a train collision resulting in a chemical spill in Graniteville, South Carolina which occurred in 2005.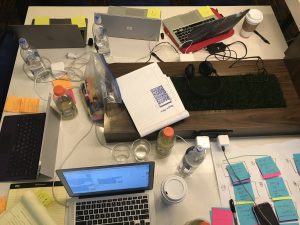 Tasked to find a solution to temper potential future disaster, the team pulled an all-nighter and created a model in only fourteen hours time. Armed with knowledge from the classroom and skills from Case Team, they operated out of a hotel lobby to create their deliverable. In the end, the team presented an algorithm paired with market research to best serve patients from incident to triage.
Out of nineteen competing teams including Duke University, Oklahoma State University, and Purdue University, The University of Alabama advanced to the finals along with five other squads.
What put them over the top? Storytelling with data. Rather than explain the steps of their model, the team incorporated methodologies and processes like consumer segmentation and factor analysis and resources from the CDC in order to generate unique insights to supplement their model. 
Team member Mason said, "I am so grateful to have had the opportunity to work on this team. We trusted one another, so we transitioned seamlessly in and out of the captain's seat. We were scrappy. When analyses did not render useful matching results or insights, we kept pushing because we wanted to represent our home team in Tuscaloosa to the best of our ability."
 "We hoped to demonstrate through our deliverable that at The University of Alabama, we are a part of something bigger than ourselves."
In most case competitions, students repeat their presentation and findings if they make it to the final round. However, when the Manderson team advanced to the next round, they were given a new case prompt. What did this mean for these students? A second all-nighter with another 14 hour turnaround time.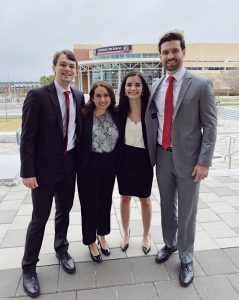 "Typically, teams have more time to get acquainted during a traditional case. Prior to the competition, we had not worked together as a team. But when we got the case, we hit our strides and we were able to represent our team and the University," said Christopher Robinson. 
Dimension reduction ran through SAS Enterprise Miner and SPSS paired with behavioral, demographic, psychographic market research united to create a distinctive solution that the team presented to industry experts, healthcare administrators, and academic researchers. 
"We are committed to expanding access to high quality experiential learning across our graduate programs. This competition put together students from our traditional MBA, STEM MBA, Master's of Marketing, and dual degree programs. Despite the intense time crunch associated with the case, the team's ability to work across diverse backgrounds and their commitment to excellence resulted in a high quality presentation that brought home a win," said Quoc Hoang, Case Team advisor and director of experiential learning at Culverhouse.
Ultimately, Duke University finished first, The University of South Carolina snagged second, and The University of Alabama took third. 
If you are interested in learning more, contact Quoc Hoang, Case Team Advisor and Director of Experiential Learning.