Culverhouse Hires Senior Director of Development
Brett Riley to lead fundraising initiatives at pivotal time for college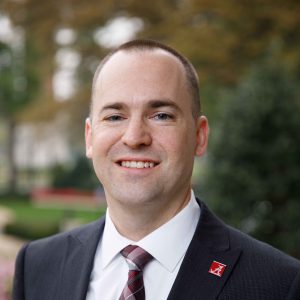 Joining Culverhouse on April 1 as its Senior Director of Development, Brett Riley is no stranger to the Capstone. Previously at the Oklahoma State University Foundation as its Senior Director of Development and Team Lead, Riley has served in a development and fundraising capacity in higher-ed for nearly nine years. At Oklahoma State he led a five member fundraising team that intersected with a number of OSU's colleges and administrative units including its College of Human Sciences, School of Hospitality and Tourism Management, and the College of Arts and Sciences.
Prior to his time at Oklahoma State, Riley was Director of Development at The University of Alabama from 2013 to 2017, with responsibilities that included establishing relationships with UA alums and soliciting major gifts. "When I was offered the position at Culverhouse, I couldn't have been more thrilled by the opportunity to return home," said Riley. "It will be exciting to take on a leadership role in enhancing the culture of philanthropy at a pivotal time for the college."
That change is best exemplified by the ongoing campaign to raise funds for Hewson Hall, a 108,000-square-foot teaching and research facility with a groundbreaking slated for this summer. Hewson Hall is critical to support the expected growth of the college, which for the most recent academic year, enrolled over 9,000 students.
The Culverhouse development team that he oversees includes Mary Jane Moore and Keith Norton, both Associate Directors of Development.
Besides his work at UA, he worked at Western Kentucky University in Bowling Green, Ky as an Assistant Director of Alumni Relations and Annual Giving from 2010 to 2012. He earned both his M.S. and bachelor's in Recreation and Sport Administration from WKU.
Get Involved
Contact Brett Riley at 205-348-3687 or briley@culverhouse.ua.edu.